Solar for Your Business
Combine Solar with Efficiencies and Pay Less Than Your Current Energy Bill.
Get a Free Quote
We Make The Cost of Solar Power Cash Flow Positive for Your Commercial Business.
---
Have you been thinking about Solar for your business or farm but figured it was too expensive?
 Good Energy Solutions can install a Solar Electric System combined with Energy Efficiencies that will actually cost LESS than what you are currently paying for your power and energy. A 5 or 7 year lease with No Money Down enables energy bill and maintenance savings. And with the REAP program, Solar for your farm is affordable.
Good Energy Solutions is a SunPower Commercial Dealer so we can offer you the choice of the most efficient solar panels in the solar industry with the longest warranties for your business.
Solar carports (also known as "solar canopies") are an increasingly popular type of onsite commercial solar installation.
These versatile structures offer features that provide more than just long-term energy savings—including covered parking, solar parking lot lights and integrated vehicle charging stations.
Good Energy Solutions Offers Quality Efficiencies Options That Reduce Your Commercial Energy Use. Solar Plus Efficiencies is a Cash Flow Positive Solution for Your Business:
As your Energy Partner, Good Energy Solutions can perform an Energy Audit to determine which energy efficiencies will have the most impact on reducing your energy use. Efficiencies like LEDs, HVAC, and Insulation plus a Solar Electric System reduce maintenance costs, offer stability from rising utility energy costs, reduce peak demand charges, and reduce cooling costs.
LED Lighting. This technology has come of age. LEDs require half of the power or less for the same light output. This is long life equipment that reduces maintenance costs dramatically as well. ROI of 1-3 years. See a Commercial LED installation.
Permanent magnet, smart motors for pumps, blowers, refrigeration, HVAC and process equipment. These use about half or less of the power as older technology motors. The older the existing equipment, the more energy and power savings is possible. Ramps up to speed to prevent demand spikes. ROI of 1-3 years.
General Efficiencies such as air sealing insulation, window films and roofing systems. ROI is typically less than 2 years.
A combination of the efficiencies will almost always return your investment in 3 to 5 years or less, or provide a cash flow positive scenario with a financed project. This is a stable investment with a better return than most conservative investment vehicles. All buildings and electric rate structures provide unique opportunities and require custom solutions. We can help provide you the knowledge to make an educated business decision. Then we can design, procure, install and maintain your investment for its lifetime.
Energy costs for operating businesses continue to increase, as clean energy initiatives are mandated for the electrical utility's fossil-fueled generation facilities. The recent cost increases over the last decade have been substantial and consistent, and there is a continued effort to reduce carbon-based emissions in general and fossil fuel usage more specifically.
Why are Efficiencies and Renewable Energy Systems like Solar Electric More Affordable Than Before?
New and Improved technologies that reduce energy use and energy systems like Solar that create energy are now more affordable in the marketplace for following reasons:
Improved Efficiencies in Technologies.
Extreme price drops in the high tech equipment due to economies of scale in manufacturing.
Incentives from federal and local authorities to promote the reduction in fossil fuel energy use.
Annual increases in utility rates virtually every year.
Availability for capital for financing energy projects.
Let's get started managing your companies energy use and create energy for your business with Solar.
We are your "go-to" company for energy management, storage, and creation. Let's get started by identifying the fastest way to use less energy, and begin to create your own clean energy. Contact us today to get started.
The community of Herington, KS waters their community garden for free with their Solar Powered Water Pump.
---
Energy Management
Lower your energy bill by lowering your energy use during peak demand times. Use batteries to store the energy made by solar electric and wind power systems. Stored energy can then be used when you really need it. READ MORE.
---
Experienced. Quality Commercial Solar Electric by Good Energy Solutions since 2007.
Take a look at some of our completed commercial solar installations and reviews from customers that have already invested in their energy future.
Commercial Dealer of SunPower, The Most Efficient Solar Panel on the Market.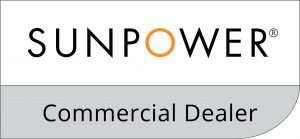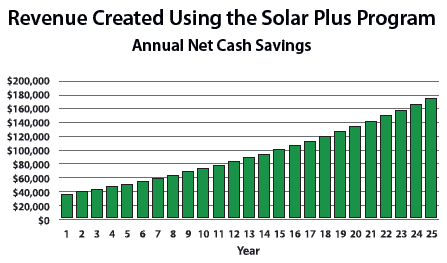 In 25 years, over $2.3 million is saved with no capital expense while showing a commitment to sustainability. Contact Good Energy Solutions to speak to a representative to learn more.
---
Your ELECTRIC BILL is TOO HIGH!!!!
Businesses can save 40-70% off energy bills plus up to 50% of the installation cost of:
Is your commercial business eligible for KCP&L Business Rebates? Let Good Energy Solutions help you determine.
HURRY BEFORE INCENTIVES EXPIRE!
CALL 1-800-554-9182 FOR A NO OBLIGATION CONSULTATION
Business owners are already taking advantage of these programs and in some cases their return on investment is as little as two years.
---
Solar Energy Systems in Agriculture
Owners of businesses that are in a rural setting may benefit from the REAP Program. The program offers grants to help pay for installed renewable energy systems, like solar electric, solar thermal, and energy efficiency improvements.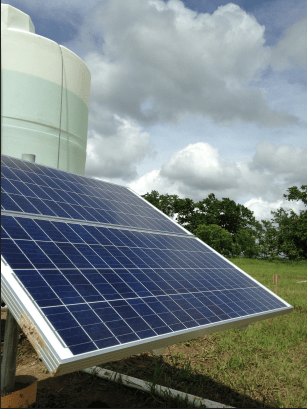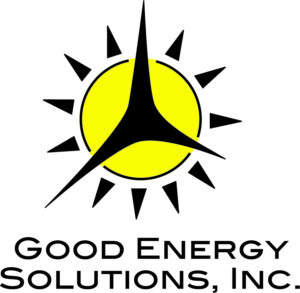 Our mission at Good Energy Solutions is to provide our customers with honest, real solutions to reduce their fossil fuel consumption and lower their long term energy costs. "Energy with Integrity" isn't just a company slogan, it's how we do business. 
Founded in 2007 by Kevin and Shana Good, Good Energy Solutions has earned a reputation for our expert reliable service, long workmanship warranties, and quality commercial and residential solar installations. 
If you would like to know more about solar power for your home or business, contact us here.