Solar Career Opportunities at Good Energy Solutions
Are you interested in working for a team committed to building a better, greener future? Do you want your efforts to benefit the whole world in which you live?
We are Good Energy Solutions, and our motto is "Energy with Integrity." We're an award-winning solar energy company committed to providing the best solar equipment and experience to our customers. Our employees are offered specialized training, education, and support to achieve their goals as well as maintain company expertise in the ever-developing renewable energy industry. Read more about Good Energy Solutions and our staff.
We are looking to fill several positions as the solar industry is rapidly expanding. Most positions include the opportunity for flexibility in job description. You can apply for any of our open positions here. When current positions are filled, we will keep your information for future opportunities.
We are currently looking to hire:
Solar Installer, Solar Services Division
Solar Electrician, Solar Services Division
Journeyman Electrician, Electrical Services Division
Solar Installer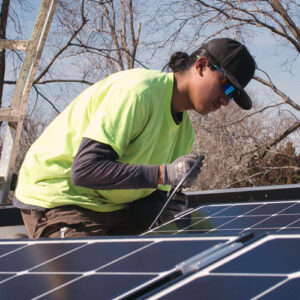 Candidates for this position may or may not have experience installing Solar PV Systems but will have some experience working in the construction industry. Desired candidate will have a willingness to learn solar installation best practices regardless of experience, and will be able to maintain a safe, positive working environment. Solar Experience is preferred. Pay varies with experience and qualifications.
Hours: Monday through Friday, full-time position. Willingness to travel a must.
Department: Solar PV Operations
Reports to: VP of Solar Operations
Duties, Tasks and Responsibilities:
Follow instructed guidelines for installation of solar PV systems and show the ability to learn and perform industry best practices.
Ability to learn and perform minor construction and finishing projects.
Help maintain a clean organized work site.
Operate lifts, trenchers, ladder hoists, small tools, etc.
Experience and Requirements:
Clean driving record.
Work within precise limits or standards of accuracy.
Experience with quality and safety control.
Preferred:
Electrical and/or construction experience.
Willingness to take on new skills.
Ability to travel for up to five days at a time.
Adaptability due to potential changes in departmental priority.
Positive customer relations experience with clean/presentable appearance.
NABCEP certification or Journeyman License Holder
Experience with SunPower products
Skills:
Self starter possessing both verbal and written communication skills with the ability to work with a team and independently.
Computer skills (Microsoft Office, G Suite, etc.)
Physical Requirements:
Must be able to work in all weather conditions in which work can safely be performed on roofs, in attics, basements, crawlspaces, and fields.
Must be capable of regular, reliable and timely attendance.
Work easily and skillfully with your hands, dexterity of hand mobility is required.
Safety vests, hard hats, and equipment provided.
Education Requirements:
High School Diploma.
Industry training preferred.
Benefits:
PTO, 401k plan, Health expense reimbursement
Solar Electrician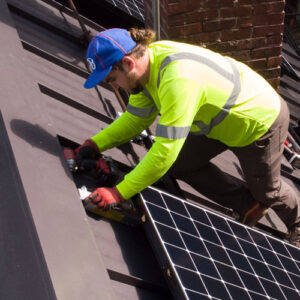 The Solar Electrician is responsible for performing the interconnection of solar PV systems to the grid and or main distribution panels in residential and commercial applications. The position will also assist with the installation of DC raceways and wiring, PV racking, and PV modules when needed. The role will also require that the individual supervise and train PV installers on proper installation of electrical equipment including raceways, wire, inverters, disconnects, taps, and back-fed breakers.  Attention to detail, working knowledge of the NEC, and strong work ethic will lead to success in this role. 
Department: Solar PV Operations
Reports to: Manager of Operations
Responsibilities: Install PV inverters, PV inverter output aggregate panels, utility PV generation meter sockets, point of interconnection equipment, and all associated raceways, labels, and wiring.
Supervise and work with solar installers as needed.

Operate power equipment such as trenchers and mini-excavators

Communicate with utility personnel for outage procedures, as well as AHJ's for inspections.

Provide excellent customer service.
Physical Requirements:
Must be able to work in all weather conditions in which work can safely be performed on roofs, in attics, basements, crawlspaces, and fields.

Must be capable of heavy lifting as needed during installation of solar PV and electrical equipment.
Qualifications:
High-School Degree or Equivalent, Associate's Degree preferred

Clean driving record and ability to pass a pre-employment drug screening

Master or Journeyman Electrician qualification KS/MO preferred but not required
Benefits:
Company cellphone for taking photos and videos in the field, uploading them to company files, as well as other company communications

PTO, 401k plan, Health expense reimbursement
Journeyman Electrician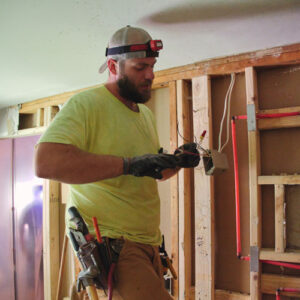 Good Energy Solutions is seeking Journeyman Electricians to join the Electrical Division.
We are growing fast, and we are looking to bring on motivated and talented people. If you are interested in working in the electrical field, whatever your level of experience, we'd love to hear from you!
Responsibilities:
Install and repair electrical equipment and fixtures
Troubleshoot electrical systems and take appropriate measures to fix the problem
Install various types of raceway and cable tray systems
Perform routine maintenance on electrical wiring and systems
Adhere to all quality and safety codes
Complete and maintain paperwork, including work orders, to catalog work done on site
Train and mentor apprentices on the crew as needed
Other tasks as dictated by the VP of Electrical
​​Qualifications:
Journeyman's License is a plus
Previous experience in electrical field a plus
Some trade schooling in the electrical field
Familiarity with electrical schematics, blueprints, and manuals
Familiarity with electrical equipment and hand tools
Strong problem solving and critical thinking skills
Benefits:
PTO, 401k plan, Health expense reimbursement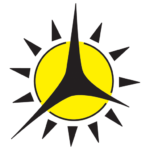 Our mission at Good Energy Solutions is to provide our customers with honest, real solutions to reduce their fossil fuel consumption and lower their long term energy costs. "Energy with Integrity" isn't just a company slogan, it's how we do business. 
Founded in 2007 by Kevin and Shana Good, Good Energy Solutions has earned a reputation for our expert reliable service, long workmanship warranties, and quality commercial and residential solar installations. 
We are engineers and craftsmen designing for efficiency while keeping aesthetics and longevity in mind. Because of our installation quality and customer service, Good Energy Solutions was selected by SunPower to be the only Elite Dealer in Kansas or Missouri. SunPower solar modules come with the longest warranties in the solar industry and we have committed to servicing our customers with long warranties as well. Also, we have more NABCEP® Certified Solar Professionals on staff than any other company in Kansas or Missouri.  To achieve this certification, PV installers must demonstrate that they possess extensive solar PV installation experience, have received advanced training, and passed the rigorous NABCEP certification exam.
If you would like to know more about solar power for your home or business, contact us here.
All qualified applicants will receive consideration for employment without regard to race, color, religion, sex, sexual orientation, gender identity, or national origin, and protected veteran status, or disability status.