Solar Career Opportunities at Good Energy Solutions
Are you interested in working for a team committed to building a better, greener future? Do you want your efforts to benefit the whole world in which you live?
We are Good Energy Solutions, and our motto is "Energy with Integrity." We're an award-winning solar energy company committed to providing the best solar equipment and experience to our customers. Our employees are offered specialized training, education, and support to achieve their goals as well as maintain company expertise in the ever-developing renewable energy industry.
Read more about Good Energy Solutions and our staff.
We are looking to fill several positions as the solar industry is rapidly expanding. Most positions include the opportunity for flexibility in job description. You can apply for any of our open positions here. When current positions are filled, we will keep your information for future opportunities.
Solar Installer
Job description
Good Energy Solutions is seeking a solar installer(s). This position will be responsible for helping organize and perform safety equipment installation, solar array component installation, and solar module placement. This position will be a part of a team to complete both residential and commercial installations in a safe and timely manner.
Hours: Monday through Friday, full-time position.
Department: Solar PV Operations
Reports to: VP of Solar Operations
Duties, Tasks and Responsibilities to include but not limited to:
Follow instructed guidelines for installation of solar PV systems and show the ability to learn and perform industry best practices.
Ability to learn and perform minor construction and finishing projects.
Help maintain a clean organized work site.
Learn to operate construction equipment/power tools.
Working on ladders, roofs, and at heights.
Experience and Requirements:
Clean driving record.
Work within precise limits or standards of accuracy.
Experience with quality and safety control.
Ability to travel during the week for work. 15-20% travel to be expected
Self starter possessing both verbal and written communication skills with the ability to work with a team and independently.
Basic Computer skills (Microsoft Office, Google Suite, etc.)
Preferred:
Electrical and/or roofing experience.
Willingness to take on new skills.
Adaptability due to potential changes in departmental priority.
Positive customer relations experience with clean/presentable appearance.
NABCEP certification or Journeyman License Holder
OSHA 10
Physical Requirements:
Ability to lift up to 60lbs frequently throughout the assigned workday.
Ability to work in harsh environments (i.e. hot and cold weather, crawl spaces, roofs, and extreme heights)
Must be capable of regular, reliable, and timely attendance.
Work easily and skillfully with your hands, dexterity of hand mobility is required.
Education Requirements:
High School Diploma.
Industry training preferred.
Job Type: Full-time
Benefits:
401(k) account with company match
Full Health Insurance and Dental for Full-time Employees
Holidays and Vacation
Referral program
Schedule: Monday to Friday
Education: High school or equivalent (Preferred)
Experience: Construction: 1 year (Preferred)
Work Location: In person
Salary: $17.00 – $20.00 per hour
Benefits:
401(k) matching
Dental insurance
Employee discount
Health insurance
Paid time off
Referral program
Vision insurance
Schedule: Monday to Friday
Willingness to travel: 25% (Required)
Work Location: In person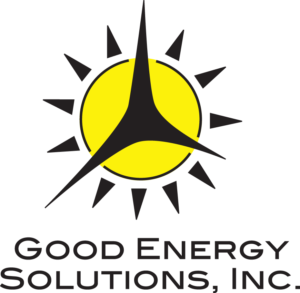 Our mission at Good Energy Solutions is to provide our customers with honest, real solutions to reduce their fossil fuel consumption and lower their long term energy costs. Our combination of hands-on experience, education, and outstanding customer service make our company the clear choice to help you achieve your energy goals.
Founded in 2007 by Kevin and Shana Good, Good Energy Solutions has earned a reputation for our expert reliable service, long workmanship warranties, and quality commercial and residential solar installations.
We are engineers and craftsmen designing for efficiency while keeping aesthetics and longevity in mind. Because of our installation quality and customer service, Good Energy Solutions' solar panel systems feature some of the longest product and service warranties in Kansas and Missouri. Also, we have more NABCEP® Certified Solar Professionals on staff than any other company in Kansas or Missouri.  To achieve this certification, PV installers must demonstrate that they possess extensive solar PV installation experience, have received advanced training, and passed the rigorous NABCEP certification exam.
If you would like to know more about solar power for your home or business, contact us here.
All qualified applicants will receive consideration for employment without regard to race, color, religion, sex, sexual orientation, gender identity, or national origin, and protected veteran status, or disability status.