SEE IF YOUR HOME IS A GOOD MATCH FOR SOLAR
Get a free quote
Give us a call, email or send us a message.
Solar panels are a home investment that save you money on your monthly utility bills, increase your property value and help reduce your impact on the environment. Good Energy Solutions offers the best solar equipment on the market with the longest warranties.
Save Money
At Good Energy Solutions, we believe the best energy gained is the energy you do not use. As the cost of conventional electricity continues to rise, a residential solar array can help lock in what you pay for power every month. Once your system is paid off, you can expect your monthly electricity bills to drop dramatically.
Tax Credits
Residential solar projects are eligible for a 30% tax credit towards the cost of installing solar panels and battery systems. This program will run until Dec. 31, 2034.
Go Green
Solar is one of the cleanest forms of energy. Solar power installations have consistently been shown to reduce carbon emissions, strain on water supplies, and demands on our current power infrastructure.
Increase Property Value
In our experience, our past customers who have sold their homes after installing solar were able to ask for a higher price. For instance, a realtor selling an Overland Park home suggested a selling price based on comps in the neighborhood. Knowing the value of the solar array, the homeowner decided to increase the price of the home. As a result, the home sold for $20,000 more than the real-estate agent proposed. Essentially, the homeowner got all of his investment back from the solar array plus the money NOT spent on rising utility costs over the years.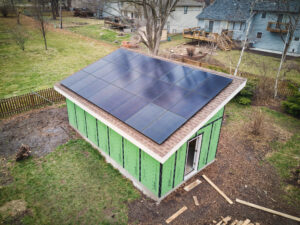 More power means more savings. Maxeon's unique technology is built-to-last when conventional solar panels lose power with age. Maxeon solar panels produce more energy than standard solar panels and offer the industry's longest warranty—with comprehensive coverage for a full 40 years.
Our customers can count on a lifetime of satisfaction and savings. Together, we build a better tomorrow through reliable, sustainable energy.
From day one, Maxeon solar panels capture more sunlight and produce more energy than standard panels. That translates to real savings across the life of every system.
We've been installing solar panels in Kansas and Missouri since 2007. Many of our employees are NABCEP© certified, indicating they are elites in the solar industry. During that time we've accumulated the highest Google review ratings of any solar company in the area.
What Customers Say About Us
Contact Us about residential solar