Commercial Solar Installations in Kansas and Missouri
Case Studies, and Business Owners Reviews of Good Energy Solutions
Get A Quote
Good Energy Solutions has been helping Commercial Business Owners in Kansas and Missouri reduce energy use and lower their energy costs with energy efficiencies and solar since 2007. Click on a photo below to see business case studies and reviews. See how business owners are saving money and discovering energy freedom with Good Energy Solutions.
---
5.2kW Solar Awning at Lawrence Creates Space – Lawrence, Kansas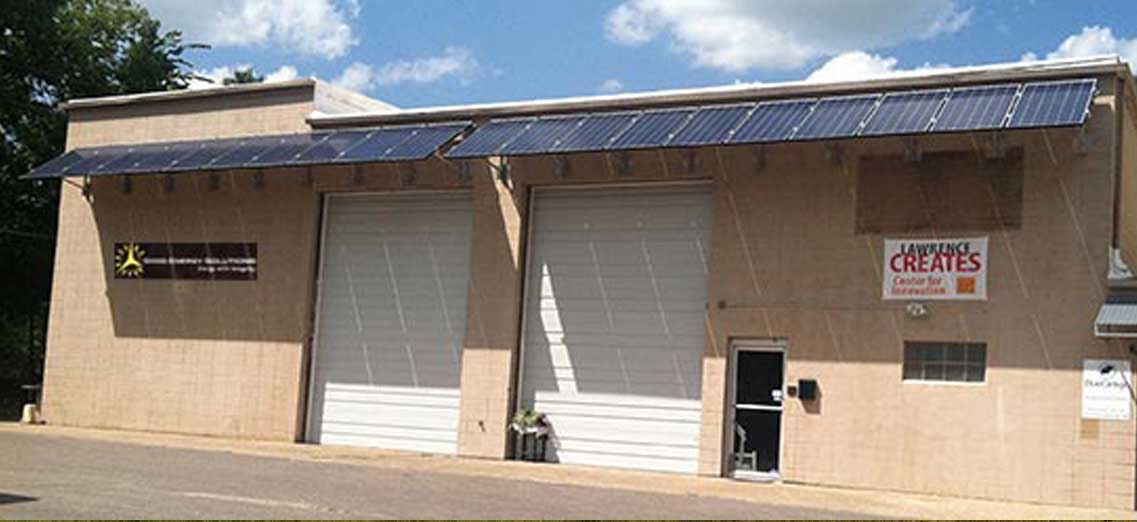 The First Solar PV Awning located within the city limits of Lawrence, Kansas title belongs to Lawrence Creates Space. This Photovoltaic system is made of 20 solar modules and has been producing energy since July 2014. 
---
12.75kW Solar PV System at Goodman State Farm Insurance Company in Olathe, Kansas
This system was designed to maximize the roof space for the owner. We flush mounted 51-250watt modules with Enphase microinverters to get maximum wattage on the roof. This system will produce about 17,500 kWh/year and pay for itself through energy saving in about 7 years.
"Kevin was great to work with and followed up on every detail!  Competitively priced, very good with every aspect of the job, and willing to be involved personally on the install! Super job!!" – Dave Goodman. 
---
5.2kW Rental Property in Kansas City, Missouri

This above system was installed on a 6 unit apartment building to offset the common space electric loads. We typically install our systems with steeper angles than most of our competition because they will generate more energy this way. It costs a little more up front, but pays off big time over its lifetime. Good Energy Solutions designs for efficiency. 
---
9.1kW PV Agricultural System on a Small Barn in Kansas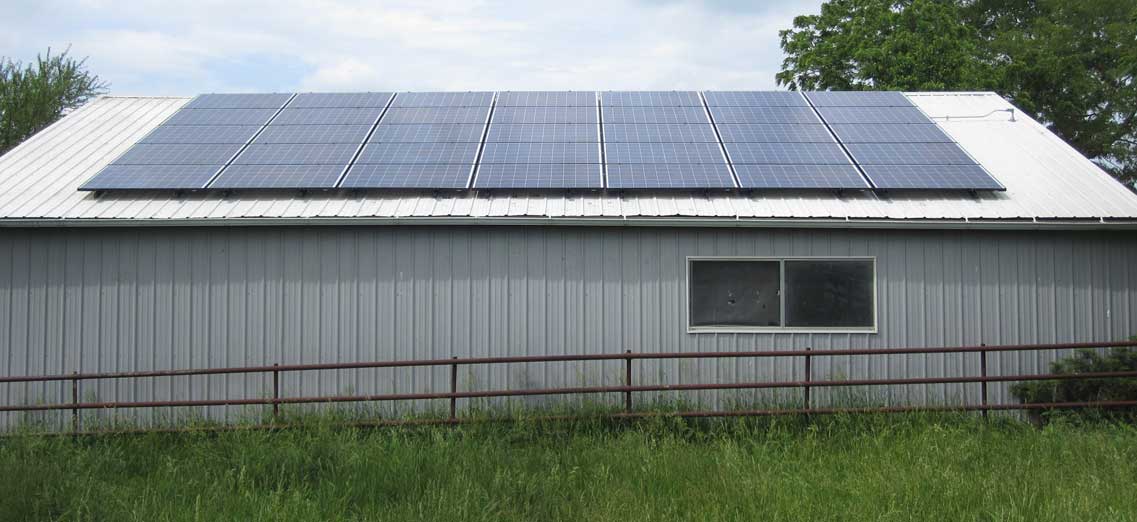 This Agricultural project will average over 1,000 kWh per month for the next 25+ years. 
---
Let's get started managing your companies energy use and/or create energy for your business.
We are your "go-to" company for energy management, storage, and creation. We can help you get started with an energy audit to see how energy efficient your commercial property is. LEDs and Demand Response Systems are great starting points. We can recommend the best type of custom renewable energy system for you based on your property. Which ever energy system is appropriate (solar, wind, hybrid, geothermal) we've got you covered. Contact Good Energy Solutions to get started.