Good Energy Solutions, a Kansas and Missouri Solar Installation Company, is proud to be a SunPower Commercial Dealer.
---
SunPower® Helix™: The World's First Fully-Integrated Commercial Solar Platform. Offering Rooftop Single and Dual Tilt Solar, and Carports for your Commercial Property.
SunPower makes commercial solar incredibly powerful and elegantly simple with it's HELIX system. Each component is precision-engineered for fast installation, long-term reliabiity and impressive returns. HELIX also features the advanced intelligence of SunPower's EnergyLink software. Delivering visibility into and control over solar energy production and consumption.
The Helix Roof: Engineered for protection from abuse and abrasion, the well secured cables are protected against temperature swings, sunlight, hail and high winds. Dual Tilt fits more panels in the same space to provide optimal energy density.
The Helix Carport: Maximizes parking areas.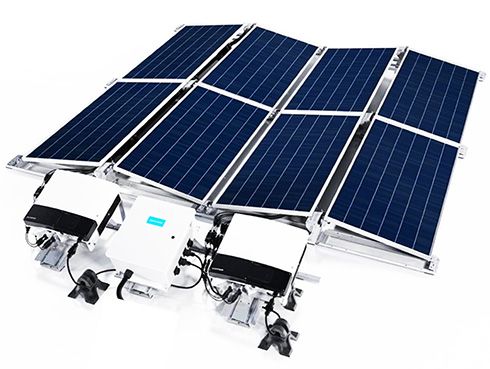 Demand Better Solar™
Spanning rooftop, ground and carport applications, SunPower® Helix™ is the world's first fully integrated commercial solar platform designed and built to make commercial solar incredibly powerful and elegantly simple. From industry-leading panel technology to the advanced intelligence of SunPower® EnergyLink™ software, each component is precision-engineered for fast installation, delivering dramatic efficiencies and greater reliability.
Made in America
SunPower has begun fulfilling commercial customer orders and has started shipping the SunPower P-19 panels from their Oregon solar manufacturing plant. "…we celebrate the revival of American solar panel manufacturing as SunPower's high-quality P19 product starts coming off the line in Oregon," said Tom Werner, SunPower CEO and chairman of the board.
P-Series panels are currently the most deployed shingled cell solar panels in the world and are highly reliable. For the second year running, DNV GL – a global independent energy expert and certification body – has named the P-Series solar panel a top performer in all five DNV GL tests that measured reliability through thermal cycling, damp heat, humidity-freeze, dynamic mechanical load and potential induced degradation.
SunPower Named No. 1 in U.S. Commercial Solar
The report based on information collected from installers, developers, asset owners and financiers names SunPower the No. 1 U.S. commercial solar provider based on 2017 capacity of on-site projects. SunPower has a unique business model of selling both directly to customers and through a carefully vetted network of local dealers, like Good Energy Solutions. The approach allows SunPower to serve and partner with large national brands and organizations that might have multiple locations in numerous locations. Local installers, like Good Energy Solutions, understand the regional nuances that are relevant to local businesses such as weather patterns, local policies and unique utility markets. Business owners and facility managers considering solar to avoid rising electricity costs can be confident that they are working with trustful industry leaders when they choose SunPower and Good Energy Soltuions.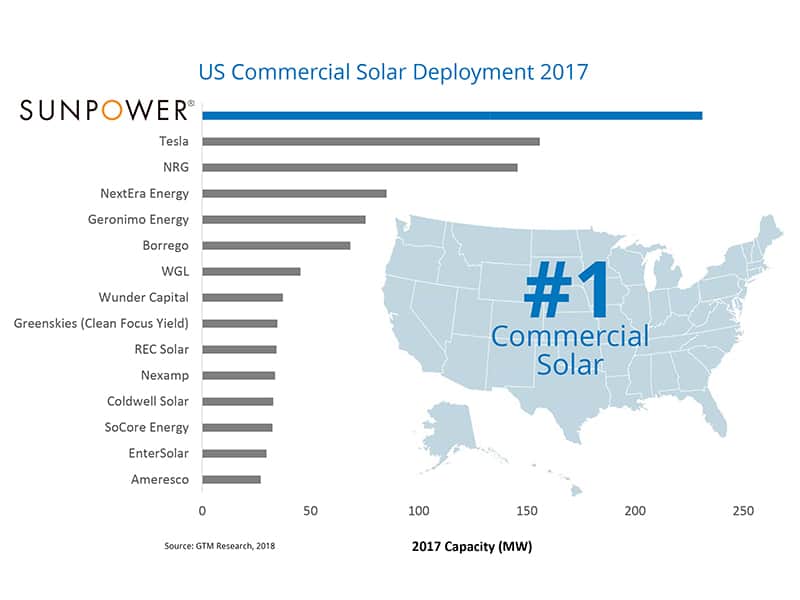 About SunPower
As one of the world's most innovative and sustainable energy companies, SunPower provides a diverse group of customers with complete solar solutions and services. Residential customers, businesses, governments, schools and utilities around the globe rely on SunPower's more than 30 years of proven experience. For more information about how SunPower is changing the way our world is powered, visit www.sunpower.com.
Business owners can share that their SunPower Solar energy system comes from a company that leads the way in sustainability. SunPower is the first and only solar company to achieve the prestigious Cradle to Cradle Certified™ Silver Award (designated for environmental responsibility in design and manufacturing.) 
Proven Experience
Designed here in the U.S., SunPower's systems have been installed on over 500,000 homes around the world. SunPower has powered solar aircrafts for NASA, built the world's largest solar power plant and teamed up with the San Francisco 49ers on their new, environmentally-friendly Levi's Stadium.
Proven experience and differentiation of product means that SunPower is going to be here for years to come and able to honor their warranties. SunPower is secure, as it is the 4th largest solar company in the world and able to invest millions into warranty reserves, and technology development.
See the many industries and companies that are choosing to go solar to reduce their energy costs.