Energy Audits Through Good Energy Solutions
---
Energy Audits are detailed evaluations of homes or businesses in their current condition. Not only is an Energy Audit a great starting to point to determine which energy efficiency improvements to make, it is also a great tool to use as a baseline to compare and determine the success rate of the improvements.
Good Energy Solutions can provide you with a professional that uses various diagnostic tools such as Infrared Thermal Cameras, Blower Door Testers, Combustion Analyzers and Light Meters to provide a detailed inspection of your home or property and provide you with the best solutions to minimize energy waste.
Most audit providers approach their audits from a singular service point of view based upon the services in which their company specializes. Good Energy Solutions works with an independent auditor that provides a comprehensive audit encompassing all energy efficiency aspects. The auditor will sit down with you and help you create an action plan that makes the most sense for YOU based upon a list of possible solutions and corrections to your home or business. Implementing these improvements will help to eliminate drafts, reduce temperature fluctuations, improve ventilation and humidity control, provide better and efficient lighting, lower your utility bills and make your home or business the most energy efficient it can be.
Good Energy Solutions Energy Efficiency Pyramid
The Good Energy Solutions Energy Efficiency Pyramid shows the possible improvements and solutions for your home or business.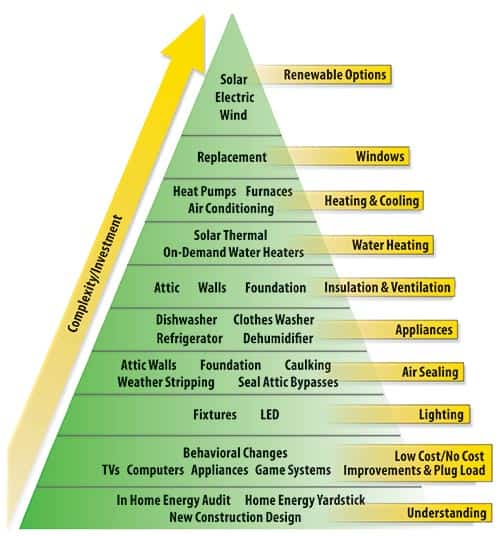 Contact Good Energy Solutions for an Energy Audit
Get started saving money on your utility bills, contact us to schedule an appointment today.
Options for Analysis at Your Energy Audit
Lighting Analysis and Insulation Inspection
• An evaluation of existing lighting and suggestions of more efficient solutions like LEDs that use less power but still provide proper lighting levels. Good Energy Solutions offers LEDs that have long warranties and quality performance.
• Inspection of your attic, walls and rim joist insulation levels and suggestions for proper insulation levels. Save money on your utility bills and improve the overall comfort of your home or business with insulation.
Blower Door Test and Combustion Analysis
• A Blower Door Test uses a powerful fan that mounts into the frame of an exterior door to determine the air tightness of a home or business. Airflow shows possible heating and cooling air losses and can pinpoint specific leaks.
• A combustion analysis uses state of the art equipment to analyze combustible flue gas at the furnace and water heater as well as determine carbon monoxide levels in gas cooking appliances.
Infrared Thermography Test
Locate voids in the thermal boundary of your home or business. Air leakage pathways are identified and documented by capturing thermal images to create a thermal map of your home or business.