Learn More About Standby Generators
Get a Free Quote
Blackouts can cause damage to your home when important appliances and devices lose power. A sudden loss of electricity will shut down your HVAC system, refrigerator, and sump pump during a storm. Purchasing a backup generator or battery can pay for itself when you factor in the cost of repairing the damage from basement flooding, frozen pipes or restocking food that's spoiled.
While batteries like the Tesla Powerwall or SunPower SunVault make sense for homes with solar panel systems, sometimes a standby generator is more suitable for your needs. Here at Good Energy Solutions, our electricians recommend the PowerProtect™ DX 20kW Standby Generator from Briggs & Stratton for customers looking for a home backup option that runs off liquid propane or natural gas.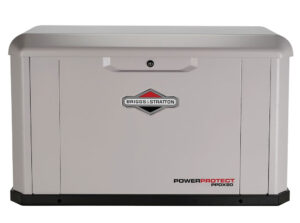 Here are few reasons why we recommend these American-made backup generators:
Best-In-Class Warranty
10-Year limited warranty of parts, labor, and travel, included for the entire term. The industry's most comprehensive warranty over time is standard to give you piece of mind that you have the coverage you need.
Quiet Weekly Test Mode
Over 65% quieter during its weekly test mode, for less disruption to you and your neighbors.
Easy Installation & Serviceability
Approved for installation as close as 18″ to a building for flexibility of placement around the home – simple toolless panel removal also allows for easy serviceability and maintenance.
Corrosion Resistant Enclosure & Base
Automotive-grade galvanneal steel base and aluminum enclosure to resist rust, and powder-coated paint for years of protection against chips and abrasions.
In Stock and Ready to Install
Unlike several of our local competitors, we make sure to keep several of these back up generators in our inventory, so you don't have to wait months to get them installed.
Purchasing a backup generator provides you with peace of mind, knowing that your home is protected if a power outage occurs unexpectedly. In many cases, preparing for a major storm or unexpected blackout with a standby generator is much cheaper and less stressful than repairing costly damage to your property.
If you would like to know more about standby generators, how we install them, or how much they cost, you can send us a message here or give us a call at (785) 371-1198.