One of the most common questions we are asked is "Should I install a battery with my solar panel system?" With rising concerns over
power grid outages
during extreme weather events, energy storage has become a more important piece of the solar puzzle. Here at Good Energy Solutions, we mainly install two different brands of solar batteries, the Tesla Powerwall and SunPower's SunVault. Which battery makes the most sense for your situation? In this article, we'll rundown the differences between both batteries, including pricing, capabilities, availability and styling.
First let's start with the basics of solar batteries. To put it simply, they store excess electricity generated by solar panels. That stored energy can power your home when your solar panels aren't generating energy, including nights and cloudy days. They also can power your home when the power grid goes down.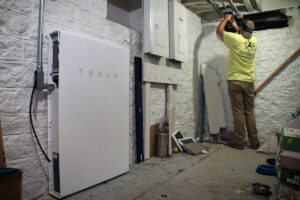 It's important to note that in most installations without a battery your home will not be able to utilize the electricity generated from your solar panels when the grid goes down. Because your solar panel system is wired into your electric company's grid, they will stop producing energy if the power goes out for any reason. This is a safety mechanism that will allow the utility company's workers to repair the lines during an outage without fear of being electrocuted. AC-coupled batteries like the Powerwall and SunVault automatically disconnect your system from the grid when the power cuts out and use the solar panel system or battery bank to power your critical loads. This allows your solar panels or battery to operate as a code-compliant off-grid electrical system until the utility company can turn your power back on.
Another big selling point for solar batteries is the 30% federal solar tax credit, which you can apply towards the final price.
Powerwall or SunVault?
Let's take a look at each battery and see how they stack up to each other. These two different batteries share a lot in common. Both are AC-coupled, which makes both easier to install into an existing solar panel system. The two batteries are designed to use primarily for emergency backup. Also, both feature simple-to-use apps that allow you monitor your home energy system in real time and make changes to the way they dispense power throughout the day.
Tesla Powerwall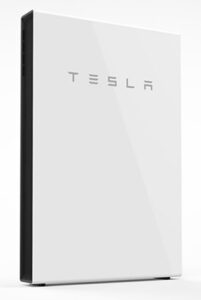 Tesla has designed this AC battery system for residential and light commercial use. It utilizes a lithium-ion battery that runs much quieter and cleaner than a conventional gasoline back-up generator. There's no exposed vents that expel heat or visible wires making it a safer solution for households with kids or pets.
Here are the Powerwall's technical details:
Energy Capacity: 13.5 kWh, can be combined together with up to 10 Powerwalls

Power: 7kW peak / 5kW continuous; seamless backup transition; pure sine wave output

Size: 45.3" L x 29.6" W x 5.75" D

Installation: Floor or wall-mounted

Warranty: 10 years
The Upside:
The Powerwall has become the biggest name in solar batteries since launching in 2015. It sports a sleek design and mounts nicely to the wall. Multiple Powerwalls can be stacked together to boost storage capacity and power more appliances throughout your home or business. Also, the Powerwall is one of the least expensive solar battery options on the market.
The Downside:
Its lower price has created a waitlist for the Powerwall. Depending on when you order one from Tesla, it could take months before your Powerwall arrives. Also, the Powerwall requires multiple electric boxes and additional parts to meet local electrical codes. These add-ons take up space, limiting your ability to work them into a workable design scheme while leaving you fewer options for concealment.
SunPower SunVault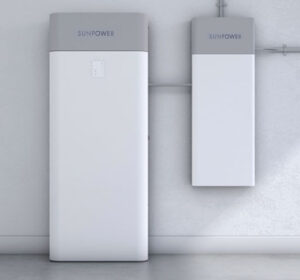 This system comes in two parts, the SunVault Battery and the Hub+.  The Hub+ acts as the "brains" of the system, with the battery usually mounted next to it on the wall.  When the SunVault debuted in 2021, SunPower envisioned it as a rival to the Powerwall, with many of the same features and a comparable power profile. 
Here are the SunVault's technical details:
Rated Energy Capacity: 13 kWh up to 52 kWh when mounted together with a second SunVault battery

Power: Continuous Power: Up to 13.6 kW

Size: Energy Storage System = 63" L x 26" W x 15" D, Hub+™ = 46" L x 17"W  x 6" D

Installation: Wall-mounted

Warranty: 10 years
The Upside: The SunVault seamlessly integrates into any SunPower solar panel system.  It's able to share the same app to monitor and manage power that the solar panels use.  Your SunVault also would share the same Complete Confidence Warranty as your SunPower solar panel system, which makes getting the entire system serviced in case of a problem much simpler.  SunVault batteries also typically run at a cooler temperature than their competitors, which increases the likelihood for the batteries to perform at top capacity for a longer period of time.
The Downside: SunVault batteries have a slightly higher price tag than the Powerwall.  
Powerwall or SunVault?
Several variables will factor into which battery will work best for your solar installation. Here at Good Energy Solutions, we stand behind both battery systems and see the benefits of adding either one to your energy plan.  Our consultants can work with you to choose the right option for your solar installation based on price, power needs, maintenance and longevity.  If you would like to talk with one of our solar consultants about battery backup systems for your home or business, contact us here.
This blog post was updated on 5-18-23 to reflect changes with the federal tax credit.