When it comes to installing a solar system at your home or business, you have several decisions to make.  First, you need to determine where you will install your solar panels.  For many homeowners, a ground-mount solar system will make the most sense for their situation.  Here are the factors that go into choosing to mount your solar panels on the ground.
COST
In most circumstances, a ground-mount system will cost more than solar panels installed on your roof.  Solar systems mounted on the ground require more materials and more labor to install.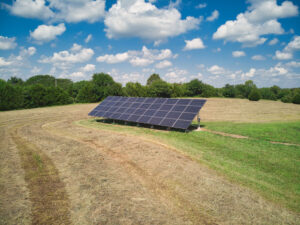 When it comes to a ground-mount system, your installer will have to build a support structure with steel beams sturdy enough to withstand severe weather conditions.  This can be a better option for homeowners when their roof isn't suitable for solar panels because they face in the wrong direction, are partially shaded or not strong enough to support solar panels.  
Also the installation crew will have to dig a trench between your ground-mount and wherever you have your electrical box located.  The further the distance, the more it will cost.  
You may also need to factor in a few more costs like landscaping around the system or reseeding the grass where installation crews dig the trench.
EFFICIENCY
Another benefit of ground-mounts involves orientation with the sun.  You have much more control over which direction your panels face and their degree of tilt.  Both of these factors make a huge impact on the amount of energy you generate every day.  With roof-mounts, you have much less control over these kinds of factors.
Mounting solar panels on the ground usually leads to better efficiency than a roof-mounted solar system.
Being lower to the ground, ground-mount solar systems are usually cooler than those installed on a roof.  With less heat, there's less friction as the solar energy transfers from the panels to your electrical system.  Also ground-mounts have better ventilation than roof-mounts, which leads to less heat.
LAND USE
Of course, a ground mount system makes little sense if you don't own enough land to dedicate to your solar project.  The amount of land needed for your system will depend on the number of panels you need installed.  Expect to allocate between .1 and .2 acres for your system depending on how much energy you need to generate.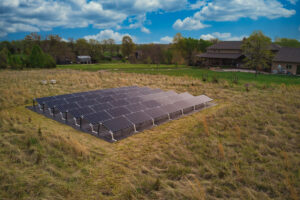 We recommend SunPower solar panels for most of our solar systems.  They come with a 25 year warranty and a life expectancy of 40 years.  That means, you won't be able to do much with the property where your ground-mount is situated for a long time.
Another factor to take into account is the vegetation that grows under the system.  This will have to be mowed and maintained.  You will also need to set up a fence around the system to prevent critters and unwanted visitors from accessing the wires.
ACCESS TO YOUR SYSTEM
A ground-mount system makes repairing or replacing your solar panels much simpler.  Having access to your system on the ground reduces the time needed for solar technicians to diagnose problems and makes the process of working on the system much safer.  
VISIBILITY
If you have enough property, you may have the option for placing your system far away from your house.  This is great for land owners who don't necessarily want to see their ground-mount on a daily basis.  Your solar installer may be able to situate the system behind trees or low to the ground, so it's not visible from your home or from the street.  The more land you own, the more choices you have for where you want the system placed.
CONCLUSION
If you have plenty of open space, a slightly higher budget and a way to maintain the vegetation around your solar system, a ground-mount just might be the right choice for you.  Our solar consultants would be happy to answer any questions you might have about which style of system would work best for your property.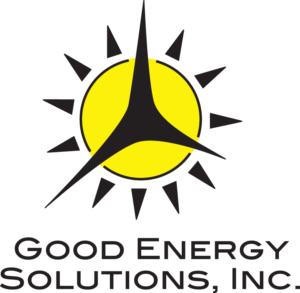 Our mission at Good Energy Solutions is to provide our customers with honest, real solutions to reduce their fossil fuel consumption and lower their long term energy costs. Our combination of hands-on experience, education, and outstanding customer service make our company the clear choice to help you achieve your energy goals.
Founded in 2007 by Kevin and Shana Good, Good Energy Solutions has earned a reputation for our expert reliable service, long workmanship warranties, and quality commercial and residential solar installations.
We are engineers and craftsmen designing for efficiency while keeping aesthetics and longevity in mind. Because of our installation quality and customer service, Good Energy Solutions' solar panel systems feature some of the longest product and service warranties in Kansas and Missouri. Also, we have more NABCEP® Certified Solar Professionals on staff than any other company in Kansas or Missouri.  To achieve this certification, PV installers must demonstrate that they possess extensive solar PV installation experience, have received advanced training, and passed the rigorous NABCEP certification exam.
If you would like to know more about solar power for your home or business, contact us here.