Kansas Solar Installations by Good Energy Solutions
Kansas City, Emporia, Lawrence, Pittsburg, Topeka, Ulysses, and Wichita by Good Energy Solutions
Get a Free Quote
Good Energy Solutions has been installing solar in the Kansas since 2007.
Kansas home and business owners have been experiencing energy freedom from the utilities and reaping the benefits of solar. Ask about a Tesla PowerWall to store solar energy for later use to provide energy security and financial benefits. Good Energy Solutions is SunPower Authorized Dealer in Kansas, so we can get you the most durable and efficient solar panels on the market. Plus, SunPower panels come with a 25-year complete confidence warranty on the solar energy SYSTEM, not just the panels. Be confident that your solar energy system will be installed properly by our experienced team of NABCEP certified professionals.
26 SunPower Solar Panels Make Up This 8.710kW Roof Mount Residential Home Solar Power Array In Leawood, Kansas (Kansas City).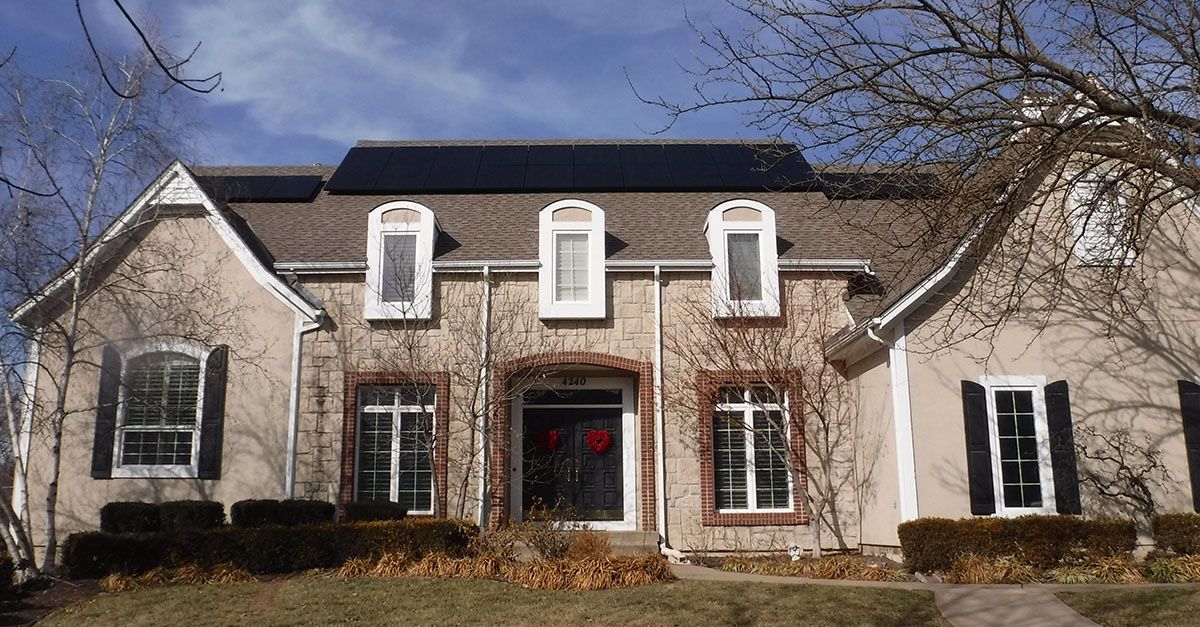 The owners of this beautiful home located in Leawood, Kansas (near Kansas City) definitely had aesthetics in mind, as well as efficiency, when they chose their SunPower Solar Panels. In fact, some residential neighborhoods have home association guidelines that state that solar panels much appear in a particular way. SunPower solar panels are the most likely panels to meet that criteria. Read the customer's review:
"From the very first interview with good energy solutions I knew I would be happy with all aspects. Their honesty, integrity, workmanship, and true caring about doing the right thing has shown throughout this whole process. The solar panels on our roof look fantastic, the energy produced by them is right where we wanted it to be, and certainly I am very proud to say that we worked and partnered with good energy solutions!" See Review
---
44 SunPower Solar Panels Make Up This 14.388kW Ground Mount Residential Home Solar Power Array Near Wichita, Kansas.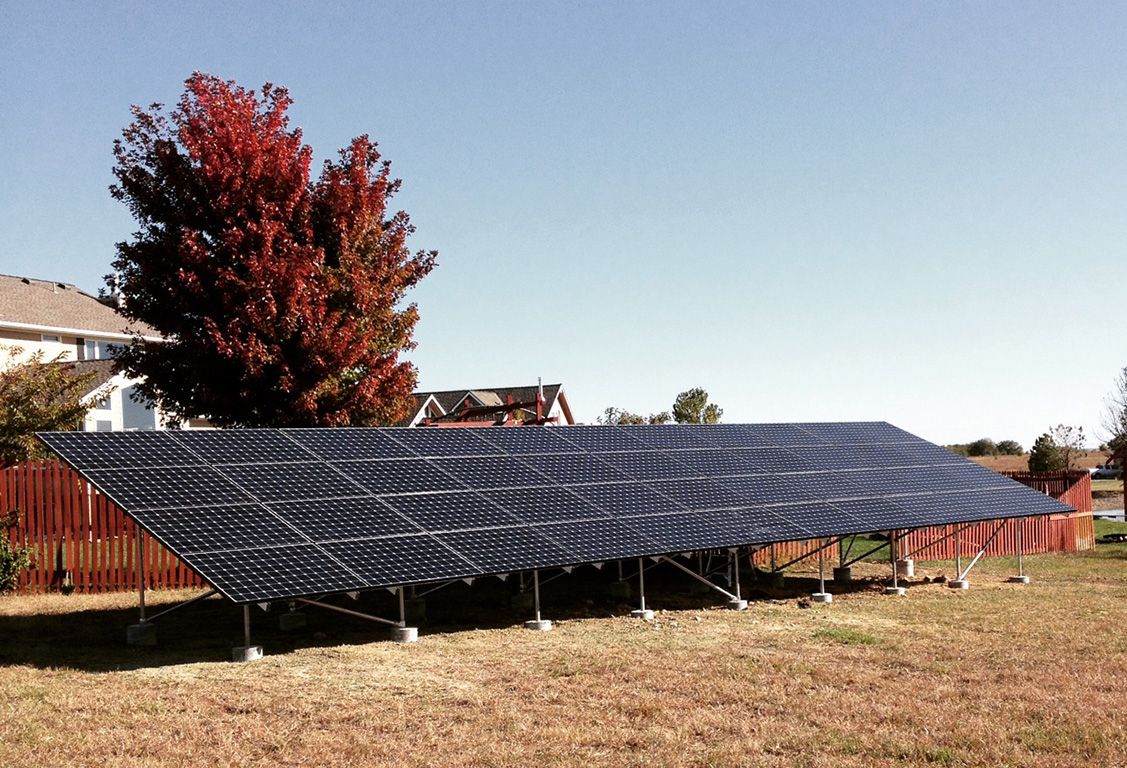 This large family with high electric bills chose SunPower's quality because they plan on being in their home indefinitely and like the long term product warranty that only SunPower offers. SunPower Solar Panels are more expensive up front but studies show that over time SunPower solar panles are more efficient and actually end up costing less for their solar production. Learn more about SunPower Solar Panels.
---
11.02kW Solar Panel System located in Emporia, Kansas.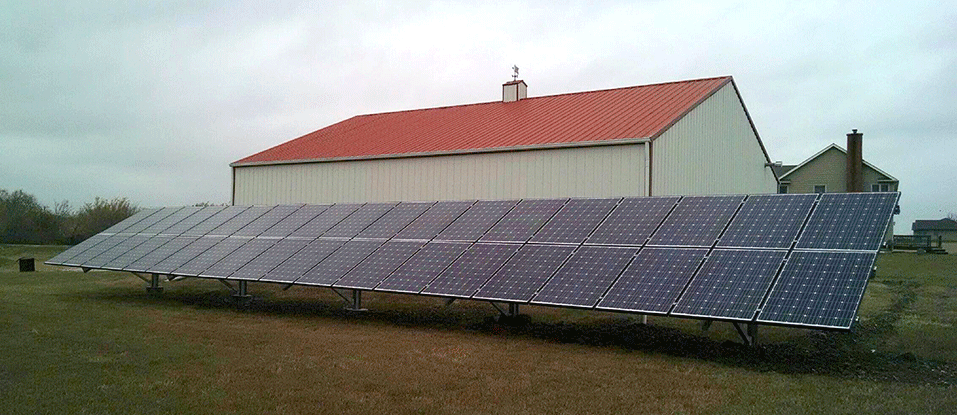 This grid-tied ground mount solar array* consists of 38 solar panels and a backup natural gas generator. The owner and his wife may decide to go "off-grid" someday and be independent of the utility.
---
22kW Residential Home Solar Electric System is located in De Soto, Kansas.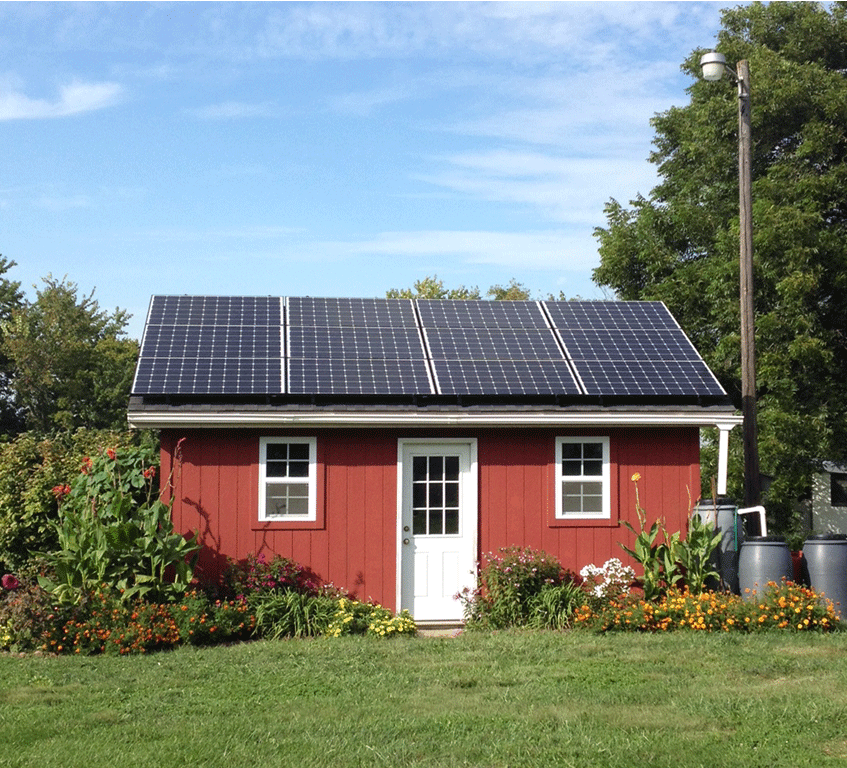 Pictured here is just one of the arrays that make up this solar electric system. The other array* is mounted on the homeowners beautiful "solar support structure" they built over their new deck and grilling/eating area. The homeowners love to entertain family and chose good quality/cost value modules to fit their budget. 
---
Kansas Commercial Solar Installations by Good Energy Solutions.
Business owners are taking advantage of the Federal Tax Credit and reaping the benefits of solar in Kansas. Good Energy Solutions is a SunPower Commercial Dealer in Kansas, so we can get you the most durable and efficient solar panels on the market.  Be confident that your solar energy system will be installed properly by our experienced team of NABCEP certified professionals. 
The SunPower Solar Awning Installation at the Topeka Zoo Creates Energy and Provides Protection From The Sun.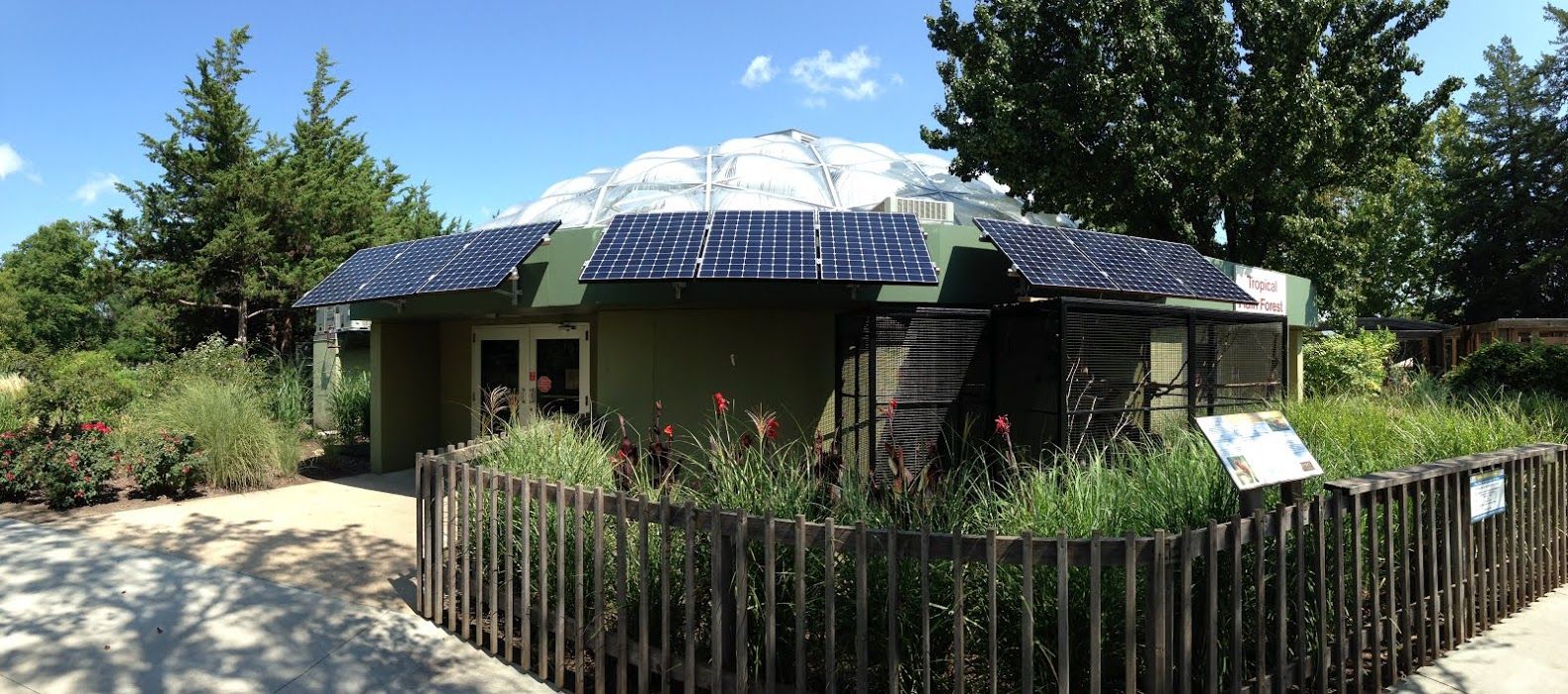 The Solar Awnings at the Topeka Zoo in Topeka, Kansas consist of 9 327W SunPower Solar Modules. Solar Awnings are a great solution if the roof space is not optimal. If the roof space is not large enough, facing the wrong direction, or lacks the structural integrity we suggest a solar awning. 
---
Solar on Grant County Bank in Ulysses, Kansas
The 99.8kW solar pv installation pictured above at Grant County Bank of Ulysses, Kansas consists of 384 solar panels and was completed in September of 2016. Solar is very visible and an easy way to show off the environmentally friendly intentions of a business or organization. The bank is excited to showcase its green energy solar array which has produced 9.26MWh of energy in the first 21 days of operation. 9.26MWh is equivalent to approximately 14,335.29lb of CO2 Emissions or powering 28,053 light bulbs for a day. 
---
Solar Array Design and Installation at Pittsburg State University, Pittsburg Kansas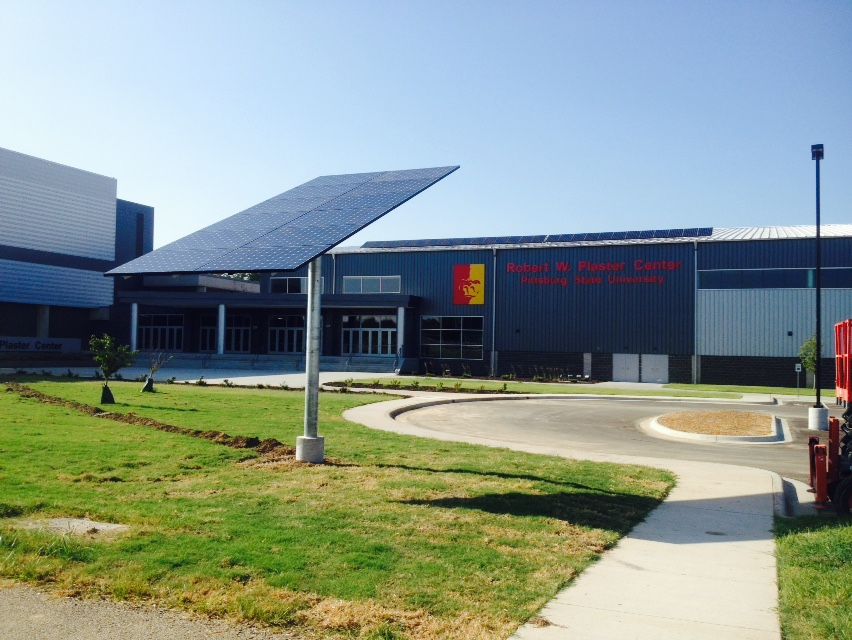 The solar installation* at Pittsburg State Plaster Center consists of 28 solar panels on the roof and four solar panels on a pole mount solar array. Together, the 32 panels are expected to provide 16,474 kilowatt hours worth of solar electricity to the building each year. 
---
Ready to get started? Contact Good Energy Solutions and a representative will come take a look at your property to see if solar is right for you. 26% Federal Tax Credit available for home solar if operational by 2021. Ask about Safe Harbor for Commercial Solar Projects.
*Not a Representation of SunPower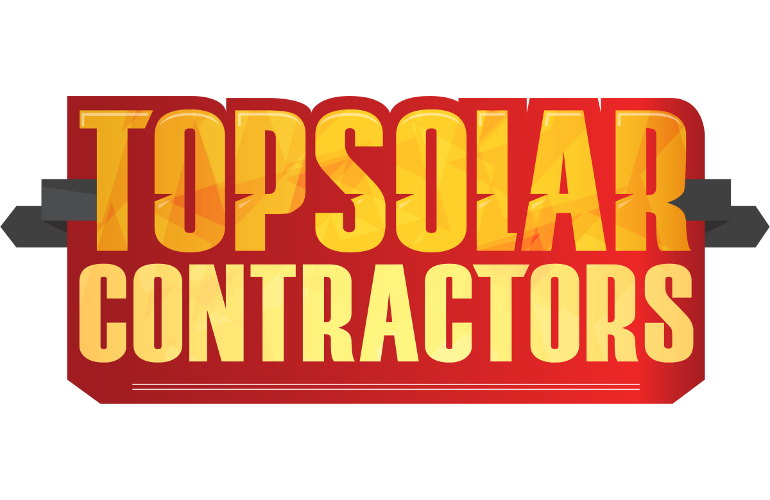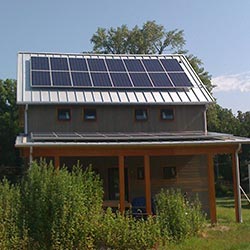 Good Energy Solutions was selected by this homeowner who also currently owns a wind farm development company. This owner knows renewable energy and it is an honor to work on his beautiful home.
This amazing solar system will power an electric car and be expanded to cover the majority of the home's use. A battery system will also be integrated into an energy management system to allow the owner autonomy when the grid power is down.