The USDA launched a program to help rural business owners and agricultural producers enhance their operations with clean renewable energy. The Rural Energy for America Program gives businesses located in areas with populations of 50,000 residents or less access to grant money that can pay a major portion of the costs associated with installing solar panels up to $500,000.  Between the REAP grant (25% of the project cost), the 30% federal tax credit from the Inflation Reduction Act, depreciation and other incentives, many rural business owners would only have to pay a small fraction of the actual costs of installing solar on their property. It is widely expected in the industry that the REAP Grant will be increased from 25% to 40% as a result of language and funding in the Inflation Reduction Act, but we are still awaiting final rules and regulations regarding this possible change.
Here at Good Energy Solutions, we're helping small businesses and agriculture producers in Kansas and Missouri to work through the process of applying for the grant. Not only can we assist you to figure out if your operation is a good candidate for this federal program, but we can also make sure you maximize all of the benefits that come along with utilizing the REAP grant for solar.
Grant applications are generally due by March 31, but we aim to have all of the paperwork put together by February 15 to ensure the process goes smoothly. If you begin work on the project before the USDA has reviewed and approved the application, you may run the risk that the project may not be funded or the money you've spent up until that point may not be recouped. Also, it's important to know that any orders, purchases, down payments, etc., completed before the application is submitted to the USDA are not eligible for reimbursement, even if the application is subsequently approved.
The USDA's goal with this program is to help increase American energy independence by increasing the private sector supply of renewable energy and decreasing the demand for energy through energy efficiency improvements. Over time, these investments can also help lower the cost of energy for small businesses and agricultural producers.
If you have questions about the REAP grant and if it makes sense for your business, one of our solar consultants can review your situation and walk you through the application process.  Reach out to them here or give us a call at (785) 371-1198.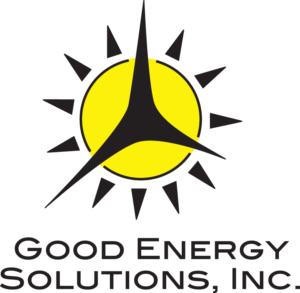 Our mission at Good Energy Solutions is to provide our customers with honest, real solutions to reduce their fossil fuel consumption and lower their long term energy costs. Our combination of hands-on experience, education, and outstanding customer service make our company the clear choice to help you achieve your energy goals.
Founded in 2007 by Kevin and Shana Good, Good Energy Solutions has earned a reputation for our expert reliable service, long workmanship warranties, and quality commercial and residential solar installations.
We are engineers and craftsmen designing for efficiency while keeping aesthetics and longevity in mind. Because of our installation quality and customer service, Good Energy Solutions' solar panel systems feature some of the longest product and service warranties in Kansas and Missouri. Also, we have more NABCEP® Certified Solar Professionals on staff than any other company in Kansas or Missouri.  To achieve this certification, PV installers must demonstrate that they possess extensive solar PV installation experience, have received advanced training, and passed the rigorous NABCEP certification exam.
If you would like to know more about solar power for your home or business, contact us here.