The Solar Awning is a great solution for residential and commercial businesses that want solar pv but do not have optimal roof space — but because solar pv awnings are not common place, we have found that they are not always easy to get approved for permit.
Here at Good Energy Solutions, we've been offering customers both residential and commercial, the option of installing PV modules mounted to an exterior wall (solar awning) for years. Examples of our work can be seen at Lawrence Creates, the Baker Wetlands, as well as at the Topeka Zoo (pictured above).
Vertically mounted racking solutions are a growing trend in the PV industry, and we are proud to have been early pioneers in the development of the solar awning. However, advances seldom come without roadblocks and challenges. That's why it is important for solar consumers to choose a solar energy partner with experience to navigate the process and to offer the best integration possible.
Good Energy Solutions recently installed a vertical solar PV awning on a home in a nearby county. Though we had the appropriate engineering documentation and approval, the county was unsure how to proceed with permitting, as this was the first and only time an installer requested a permit for such an installation. As a result, the permitting office was unsure how to proceed, and classified the installation as a "ground mount" and stipulated that it must not be higher than 8' at the most.
After lengthy conversation and many appeals, we installed the system as requested, only to have the inspector refuse to pass the final inspection because the awning was too low to be safe for the homeowner. Ultimately, the inspector convinced the planning board to allow for the awning to be installed higher up on the wall, and the authority is currently amending their codes and regulations. This change in codes will make solar awning installation in the county much easier in the future.
We frequently get complements from local authorities and utilities on our thoroughness, quality, and workmanship.
We're not afraid to take on challenges other installers won't. At Good Energy Solutions, we pride ourselves with our ability to exceed customer expectations, and our ability to work with authorities and utilities to bring sustainable energy to the masses. Contact Good Energy Solutions to see if your home or business could best benefit from solar roof mount, ground mount, or awning.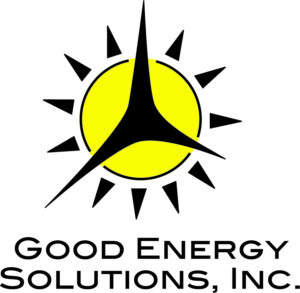 Our mission at Good Energy Solutions is to provide our customers with honest, real solutions to reduce their fossil fuel consumption and lower their long term energy costs. "Energy with Integrity" isn't just a company slogan, it's how we do business. 
Founded in 2007 by Kevin and Shana Good, Good Energy Solutions has earned a reputation for our expert reliable service, long workmanship warranties, and quality commercial and residential solar installations. 
If you would like to know more about solar power for your home or business, contact us here.