Protect Your Investment by Choosing Solar Panels Designed to Reduce the Impact of Micro Cracks.
In 2017, IBC or Interdigitated Back Contact Cells were made available on the market and for the first time, other solar panel manufacturers were able to claim that their solar panels rivaled SunPower's efficiency.  However, although the cells look the same on the front, the cells do not have the same durability against Micro cracks as SunPower's.  SunPower's patented "Maxeon Cell" design is stronger. On the back of a SunPower cell you can see the rear layers that reinforce the entire cell and help prevent micro-cracking which can eventually lead to solar panel failure. The layers include a high-grade solid copper IBC rear foundation plus a highly reflective metal mirror-like surface that reflects any light which passes through back into the cell. The result, the rear side of the 'Maxeon' IBC cell is extremely tolerant to stress and bending, unlike conventional cells which are relatively brittle in comparison.
The 2017 introduced IBC cells have a grid of 30 or more conductors integrated into the rear side of the cell, unlike standard conventional cells which typically have 4 to 6 large visible ribbon busbars and multiple fingers on the front side of the cell. (see image below in the original post), The most obvious problem with the more common front exposed busbar design is they partially shade the cell and reflect some of the light photons which reduces efficiency, while IBC cells don't suffer this problem and as a bonus look much 'cleaner' with no exposed busbars. Watch this video that shows the difference in the durability of a SunPower Maxeon Cell vs other IBC cells.
---
Originally Published Feb 22, 2018
Micro cracks are small cracks in solar cells that are impossible to see with the naked eye but really impact the performance of your 
solar energy system and investment
.
Most solar cells are comprised of very thin silicon wafers, usually around 0.20mm thick. The wafers have some ability to flex, but simple pressure or stress can induce micro-cracks. Micro cracks can be caused by poor handling of the solar cells during assembly (usually through non automated systems). Some manufacturers test solar panels with Infra-Red scanning cameras that detect and isolate micro cracked cells during processing. Testing panels before leaving the factory or manufacturing plant reduces poor performance of modules out in the field, however micro-cracks can still occur during transport or installation.
To reduce the possibility of micro-cracks it's important that panels are protected with quality packing and careful handling. In transit vibration as well as possible shock damage from improperly handled or dropped modules can create cracks. Newbies in the solar industry often unknowingly create micro-cracks by throwing boxes of gear on top of stacked panels or even balancing panels on their heads as they walk towards a ladder. Standing or kneeling on panels during installation is also a contributor to micro-cracks.
Cheaper solar panels are even more susceptible to micro-cracks as manufacturers figure out ways to cut costs. Silicone wafers, protective glass, and aluminum frames get thinner and thinner to reduce material costs. SunPower's module frames are 46mm or 1.8 inches black anodized (Class 1, the highest rating my AAMA, American Architectural Manufacturer's Association) compared to some conventional modules with frames that range as low as 31mm.  Stronger frames help reduce stress from torsional loads such as wind that can damage the cells in conventional technology. Be sure to look at the solar panel manufacturers' spec sheet to see frame specifications.
SunPower solar panels are made differently. Other manufacturers have recently started to make solar panels that look like SunPower's because they are now putting the connectors on the back of the solar cell. Connectors on the back increase efficiency due to less shading on top of the cell, but the cells themselves are still just as susceptible to micro-cracks. SunPower Maxeon solar cells are inherently more robust than conventional cells in real-world conditions because of the integrated solid copper back.  The solid copper design ensures contact across the entire cell, keeps the solar cells in place, and actually strengthens the cell. If a micro-crack should occur, the cell is still in perfect contact with the copper that conducts the energy,  effectively designing the negative effects of microcracks out of the module.  Cell strength combined with high-quality SunPower panel glass and frame makes SunPower cells virtually immune to micro-cracks in real-world conditions.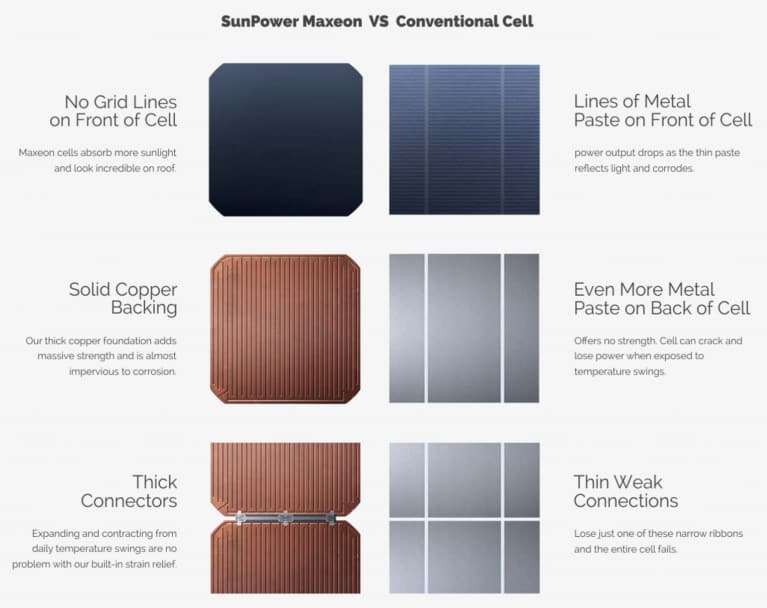 Good Energy Solutions is an Elite and Commercial Dealer of SunPower. Visit our website to learn more about the power of SunPower and read reviews from homeowners that are saving money on their energy costs. Contact Good Energy Solutions for a free consultation.