Message From The President
Kevin Good, Good Energy Solutions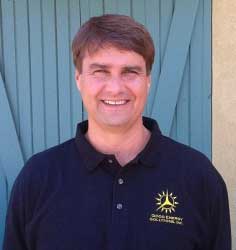 Hello, I'm Kevin Good, President of Good Energy Solutions, Inc. Our mission is to help our clients reduce their demands on fossil fuels and lower their long term energy costs. In this message, I'll share about Good Energy Solutions and how we can help you meet your goals.  
We specialize in customized energy and electrical services solutions for residential and commercial clients. Whether it is a 10 kilowatt residential solar PV system, an electrical rewire of a commercial office building, or a 10-megawatt utility-scale, solar plant, we design and build for efficiency, longevity, safety, and aesthetics. I started the company in 2007 to provide potential customers "Energy with Integrity". This means that we give you an honest assessment of your needs and provide real options that will deliver a virtually guaranteed return on your investment and associated reductions in your overall energy footprint. We design your integrated solution with the future in mind, and we stand behind our work with long term warranties. We are an Elite Sunpower residential and commercial solar dealer, so we can provide the absolute best equipment available, and we are now a Tesla Powerwall battery dealer and a Kohler generator dealer. My goal has always been to be your long term energy partner that designs, procures, and constructs your project.
As an engineer, I look at problems from an efficiency perspective. In energy systems, the most efficient unit of energy is the one not used. Energy reduction is the place to start when considering energy alternatives. We have partners that can assess your building's envelope, lighting, and space conditioning systems to pinpoint the best options for reducing energy inefficiencies. We can provide the services to design and install better solutions to bring down your building's energy use. Then we can design a more efficient energy alternative that will be able to offset a higher percentage of your remaining needs.
A few of the alternatives that we offer are:
Solar PV- Increases in utility rates and solar incentives combined with falling equipment prices now provide excellent returns on investment, particularly for commercial applications. Purchasing a solar system is like buying a car with all the gas it will ever need. Public perception has been that solar is too expensive, but there are now affordable options for financing systems with low-interest loans and leasing options. If you are even considering renewable energy, give us a call. If you've priced it before and decided against it originally, take another look, you might be pleasantly surprised. The additional cost of a system on a 30-year mortgage will cost less than the monthly utility costs you will save. Let us provide you with a proposal so you can see for yourself how easy it is to become a solar pioneer.
Electrical Services and LED Retrofits- Our electrical services division can take care of small residential service repairs to major commercial remodels or buildouts. Our team of professionals is dedicated to providing great customer service and safe, high-quality work. LED technologies have also changed the lighting landscape over the last few years, and we are here to help you navigate the range of possibilities. This technology is capable of reducing your lighting loads by 60 to 80%. LEDs can improve your lighting, while reducing your maintenance costs, because the lights last many times longer than most traditional options.
Battery Storage, Backup Electrical Systems and Car Chargers- As Battery technologies continue to improve and more cost-effective products become available, we bring expertise in this growing market. We can provide storage solutions that can combine with solar systems to supply seamless power to long or short power outages or even design completely off-grid applications for the right situation. Or if you have no solar, but still want a backup source of power, we can design a critical load battery system or a whole home generator system.  As the electrification of the transportation market continues to build momentum, we can install car chargers. If you like the idea of reducing your carbon footprint, when combining solar with your car charger, you can literally drive your car like I do, powered by sunshine.
O&M and Troubleshooting- We can provide Operations and Maintenance services on most solar PV systems and generators. Our service division can troubleshoot any PV system and get it back online.
Here at Good Energy Solutions, we are designers, engineers, skilled technicians, designing for efficiency and installing for longevity and aesthetics. We bring the expertise of the best manufacturers, financiers and trade partners to bring our customer a finished product that they will be proud to own and confident in its long term performance.  We've assembled a team of people dedicated to making a difference in the world and leaving happy clients. You can rely on our expertise for this investment in your future. Contact us, and we can get to work today to help you reduce your energy use and control your long term costs.
Sincerely,
Kevin A. Good
President, Good Energy Solutions