Every couple of weeks, Good Energy Solutions gets a phone call when a solar DIY project hits a snag.
Small projects are appropriate for do-it-yourselfers, such as Tiny Houses, RV's, or other small off-grid systems. Grid-tied solar, battery back-up systems, and large off-grid systems should definitely be installed by professionals. While we respect that many people want to install their own PV systems (solar DIY), we advise caution whenever working with electricity.
Case in point. The phone rings and on the line is a DIY that is frustrated because they have installed their system and it just won't turn on. "I"m not sure why, can you come out a take a look?" After the discussion regarding minimal cost to trouble shoot and/or fix, a NABCEP certified pv installer is sent out to access the job. What has been found:
MC4's improperly connected or damaged

Conventional PV modules connect with MC4 or Amphenol connectors. Both types of connector require specific tools to properly make up the connections. These tools are costly, and only work for MC4 or Amphenol connectors. MC4 and Amphenol extensions can be purchased online, but they won't be the exact length needed unless custom ordered. These are common points of failure in hastily made Solar PV installations by untrained installers.

Improper racking

Solar PV racking is expensive, especially when sold retail. There's a reason for this; it's specifically made for solar arrays and has no other purpose. Racking for PV modules is made of anodized aluminum, so it won't corrode in the elements. It is made of the same material as the frames of the PV modules themselves. Projects done on the cheap often use strut, which is commercially available at most home improvement stores. Strut is inexpensive, and has many uses, racking for PV modules not being one of them. Because strut is made of galvanized steel, it will react negatively with the PV module frames and rust quickly. It will also fail to create a bond to the module frames, which will cause a ground-fault hazard.

Failure to meet code compliance

We've received multiple complaints from local utilities and about PV systems installed by newcomers or homeowners that fail to meet local and national codes. Only someone with an understanding of these codes and industry best practices should be installing solar PV systems.

Improper wiring

Perhaps the greatest hazard in PV installation is improperly wiring modules and inverters. Every inverter is manufactured to allow for specific voltages and amounts of current. Failing to properly wire the DC source circuit of a solar array to an inverter can damage the inverter, or worse, start a fire. Manufacturer's recommendations for maximum voltage and current must be followed to maintain warranties and avoid harm to equipment, property, and life.
At Good Energy Solutions, we do not recommend that someone with minimal experience in electrical attempt to install a solar electric energy system after watching a couple of Solar DIY You Tube videos. Most professional solar installation companies have staff members who are NABCEP certified and have studied, trained, and passed the rigorous NABCEP Certification exam. And if you are working with a company that does not have NABCEP certified installers, we highly recommend you look at a different installer. The process to achieve NABCEP certification takes a minimum of 6 months to a year to achieve.
It may cost a little more to have a professional install your solar energy system, but in exchange you will have peace of mind. When you hire a professional you know that your solar energy system is installed properly guaranteeing 1) best return on investment, 2) secure warranties, 3) and most importantly, safety of you, your family, and your home.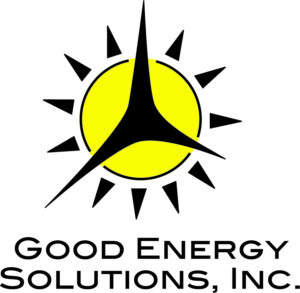 Our mission at Good Energy Solutions is to provide our customers with honest, real solutions to reduce their fossil fuel consumption and lower their long term energy costs. "Energy with Integrity" isn't just a company slogan, it's how we do business. 
Founded in 2007 by Kevin and Shana Good, Good Energy Solutions has earned a reputation for our expert reliable service, long workmanship warranties, and quality commercial and residential solar installations. 
If you would like to know more about solar power for your home or business, contact us here.