When a Good Energy Solutions representative runs across a bad solar installation we are disheartened, because we learn that there are solar companies that continue to practice in an unethical manner that give the solar industry a bad name.
We would like to educate our community on some of the installations and sales practices we have run across in the last 6 months so that you, the consumer in the solar industry, can make an educated decision/investment.
Solar Panels Installed Facing The WRONG Direction. In the northern hemisphere solar panels should be installed facing SOUTH. Solar panels that face South collect the most energy from the sun and consequently give you the best return on your investment. Azimuth of the sun is considered to calculate the solar panel tilt or angle. The best solution for 100% efficiency would be the use of solar trackers that follow the suns movement. But trackers are not always the best solution due to available property layout and cost. (Good Energy Solutions offers trackers for those customers that can best benefit) Two owners of solar energy systems installed by two different solar installation companies in Kansas contacted us because they were not seeing a reduction in their utility bill. In one case, the job was designed properly, but installed incorrectly. The solar installation company had faced the solar panels of the ground mount system facing NORTH

EAST

. Consequently, the sun was hitting the solar panels only in the morning, and during the winter months, almost not at all, when the sun's angle is low in the Southern sky. The customer did not have access to monitoring so he could not see that the panels were underperforming. The customer contacted Good Energy Solutions to install a NEURIO energy monitoring system on his home so he could determine how much energy his system was generating as well as determine other ways that he could reduce energy use. Once our NABCEP certified representative visited the customer he easily recognized that the system had been installed incorrectly. The customer is in the process of trying to get the original company to fix their mistake. 
Sales claiming customers should purchase systems sized to eliminate 100% of their utility bill. In the state of Kansas, it is not possible to eliminate 100% of your utility bill unless an off-grid/battery system that is NOT connected to the utility grid is installed. Any customer that is connected to the grid will have customer service charges and taxes no matter how low their electric usage. 
Sales claiming it is in the consumers best benefit to offset 100% of their expected electric use.  Good Energy Solutions sizes pv systems based on a years worth of monthly energy use data

. This custom designed system minimizes oversizing the system, so you are not selling back to the utility at a lower rate than what you pay the utility at retail rates. The wholesale rate that is credited for net monthly overgeneration is only a few cents, not enough to warrant spending extra money on modules to offset total annual kWhs.  A better investment would be to use that money on energy efficiencies like LEDs or even insulation to reduce energy use, and possibly reducing the size of solar pv system in the first place. Good Energy Solutions tries to design a system that benefits the customer the most financially and/or meets their goals.  

Sales claiming that Good Energy Solutions under-sizes expensive systems so that you have to buy more solar later. NOT True. Good Energy Solutions sizes solar systems based on optimal ROI (see number 3 above) and the efficiencies of SunPower Solar Panels. SunPower solar panels are the most efficient solar panels on the market, and actually take less solar panels to generate the same about of energy as conventional solar panels. So, yes our systems may have less panels, because with SunPower you need less.

Sales claiming leasing a solar pv system has the same benefit as owning a solar pv system. NOT True. Owning a system increases the property value of your home. And because SunPower solar panels have the lowest degradation rate their useful life is 40 years compared to the industry's standard 30 year. Your investment is protected with a 25 year product warranty from SunPower.

Sales claiming all solar pv systems have the same 25 year warranty. NOT True. SunPower is the ONLY manufacturer with a 25 year product warranty on their solar panels. SunPower asked Good Energy Solutions to be Authorized Dealer because of our commitment to quality. Good Energy Solutions decided to become an exclusive dealer of SunPower for residential solar because we can offer our customers the most efficient panels with the longest warranties at a great price. 

Another installer may offer their own 25 year warranty, but if that installer should go out of business, the warranty means nothing. SunPower has been in business for over 30 years and has withstood the test of time.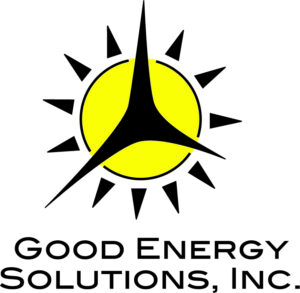 Our mission at Good Energy Solutions is to provide our customers with honest, real solutions to reduce their fossil fuel consumption and lower their long term energy costs. "Energy with Integrity" isn't just a company slogan, it's how we do business. 
Founded in 2007 by Kevin and Shana Good, Good Energy Solutions has earned a reputation for our expert reliable service, long workmanship warranties, and quality commercial and residential solar installations. 
If you would like to know more about solar power for your home or business, contact us here.