When someone reaches out to us for a solar quote, we always request that they send us a copy of their electric bill. Your electric bill holds the answers to many of the questions we have about your energy needs. It shows us how much electricity you use year-round, how much your electric company charges you per kWh used, validates your address and most importantly shows that you are serious about getting a free quote from us.
None of the information from your electricity bill is used for any other purpose other than helping us calculate a precise solar quote. We don't sell off your information to 3rd parties or share it with anyone outside of our team. Also, we don't subcontract out any of the work on most of our solar projects. From our solar consultants to our on the job installers, everyone who works on your solar project is a Good Energy Solutions employee.
Every solar system we quote is customized for your specific needs and takes into account several factors including roof size, how much sun your property takes in during the day and if anything like tall trees or bigger buildings would obstruct your panels. This allows us to quote you a total price for your solar project that includes labor costs, transportation for our crews, materials and solar equipment.
Why you should trust Good Energy Solutions:
We're a family owned and operated company headquartered in Lawrence, Kansas since 2007.
Many of our solar electricians are NABCEP Certified
We average 5 stars on Google Reviews
A+ rating with the Better Business Bureau (BBB)
Recognized as a Top Solar Contractor by Solar Power World every year since 2015.
Accurate information about your electricity needs helps us create an accurate solar estimate for your property. Your electric bill is essential to the process of figuring out the best solutions for your potential solar system. If you're thinking about going solar, you can reach out to our solar consultants here.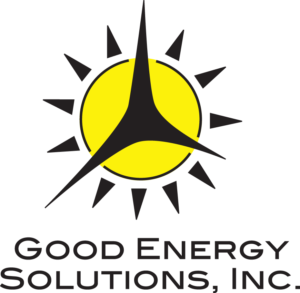 Our mission at Good Energy Solutions is to provide our customers with honest, real solutions to reduce their fossil fuel consumption and lower their long term energy costs. Our combination of hands-on experience, education, and outstanding customer service make our company the clear choice to help you achieve your energy goals.
Founded in 2007 by Kevin and Shana Good, Good Energy Solutions has earned a reputation for our expert reliable service, long workmanship warranties, and quality commercial and residential solar installations.
We are engineers and craftsmen designing for efficiency while keeping aesthetics and longevity in mind. Because of our installation quality and customer service, Good Energy Solutions' solar panel systems feature some of the longest product and service warranties in Kansas and Missouri. Also, we have more NABCEP® Certified Solar Professionals on staff than any other company in Kansas or Missouri.  To achieve this certification, PV installers must demonstrate that they possess extensive solar PV installation experience, have received advanced training, and passed the rigorous NABCEP certification exam.
If you would like to know more about solar power for your home or business, contact us here.