Energy Efficiency Project Results
After 3 full billing cycles of data, I am happy to release the early results of my Energy Efficiency retrofit project.  Before we get too far, it is important to remember that we won't really know the full effect of the retrofit until we are able to see a full year of bills.  In fact, the chart below illustrates exactly why we need a longer timeline to truly understand the results. As a quick recap, here is what my Energy Efficiency project entailed:
Sealed the envelope to prevent conditioned air from leaving the house
Insulated the attic and crawl space to prevent thermal losses
If I would have written this post in early August, I could have easily written an article about how Energy Efficiency was a big scam and it didn't work (which of course is not true).  Energy Efficiency is a very real savings opportunity and it takes time to get a clear picture.
On the same note, If I had only done my analysis for the two most recent months, I would likely be overstating my projected energy savings.  The reality is that we are going to have good months and bad months.  Our goal, and the trend, is to have more good months than we have bad months.  If we can do that we end up saving energy, money, and the planet when it is all said and done.  Going into the Energy efficiency project, my hope was to be able to save 10-20% of my energy usage.  It appears that we are on the right path to do just that.  Hopefully, July was just a very bad month and the savings end up being closer to 25-30% year-round.

Energy Efficiency and our Carbon Footprint
If the 16% average energy savings holds up throughout the year, then we would be saving 0.6 Metric Tonnes of Carbon per year.  As I write that out, it sure doesn't seem like a lot of Carbon savings.  And 0.6 Metric Tonnes is nowhere near enough compared to what I need to do to reach my goal of 26% carbon reduction.  But this is the crux of the whole experiment and if you want to take big bites out of your carbon footprint, you really only have three options:
Go Solar (this is a blog on a solar website after all)
Switch to an electric car
Stop flying
Outside of those options, you are left with very small changes that add up over time.  While 0.6 Metric Tonnes might not be a lot, it equals a 1.3% carbon reduction and my goal is to get to 26%.  So Energy Efficiency gets me 5% of the way towards my overall goal.  All of a sudden, this small change doesn't seem as small.  This small change is going to pair nicely with a high-efficiency HVAC unit that we plan to get next year.  Energy-efficient homes and energy-efficient appliances should complement each other.  Doing them both should lead to more savings than either could achieve individually.
This is also why I like to have goals that stretch out 5-10 years.  It is very hard to cut 26% of your emissions in just 1 year.  As long as we keep making steady progress, we are headed in the right direction.  Yes, we need to get there as fast as we can…but we also need to just keep moving.  Cheers to a few more steps on a very long journey!
Have you completed an Energy Efficiency upgrade on your home?  I'd love to hear how it went and how much savings you see.
Thanks!
— Andy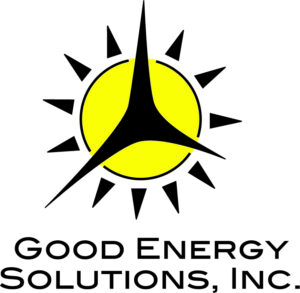 Our mission at Good Energy Solutions is to provide our customers with honest, real solutions to reduce their fossil fuel consumption and lower their long term energy costs. "Energy with Integrity" isn't just a company slogan, it's how we do business. 
Founded in 2007 by Kevin and Shana Good, Good Energy Solutions has earned a reputation for our expert reliable service, long workmanship warranties, and quality commercial and residential solar installations. 
If you would like to know more about solar power for your home or business, contact us here.