Commercial solar can take the form of many different types of projects. Large corporations, small businesses, governments, nonprofits, churches and universities have all taken advantage of solar technology to reduce their carbon footprint and lower their operating costs.
Solar is an untapped resource for most commercial operations. Only 3.5% of commercial buildings in the United States have solar panels installed with another 1% utilizing a community solar subscription that allows them to buy power from a local solar farm.
If we were to set aside the number of properties that don't use enough electricity or already utilize renewable energy, the owners of roughly 70% of commercial buildings in the United States would benefit from a solar installation as a worthwhile investment. That equates to over 600,000 sites and 145 gigawatts (GW) of solar capacity potential.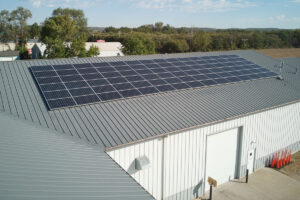 If you're considering a commercial solar installation, you should focus on a few key factors. For most decision makers, it all comes down to money. How long will it take to recoup your investment? Your first impulse may be to only pay attention to the short-term costs. There's more that goes into deciding whether solar would be a good fit for your operation than the overall price. You should also consider how long you can expect your solar installation to last, what kind of warranty covers your panels, how much power your installation will produce, and financing options.
Here at Good Energy Solutions, we only install quality solar panels. We expect our solar installations to have a useful life of up to 40 years. Once your system is paid off, you'll be generating much of your own power with very little overhead cost.
Financial Benefits of Commercial Solar
Solar panels offer several benefits to your bottom line. Here are a few more ways they make sense for your financials:
They usually lower your operating costs by offsetting monthly electricity bills.

Solar panels protect from fluctuating energy costs in the future.

Studies

show that solar panels will improve the value of property.

Companies receive a 30% tax credit that greatly reduces the overall cost of the installation.

Businesses can depreciate the value of their panels, giving you an immediate first year deduction.

They improve your organization's brand as a champion for clean energy, with an eye towards the future.

A solar system with a battery backup installed helps protect your operation from lost productivity associated with power outages.
Financing Options
There are several ways to pay for the solar installation. Cash offers the benefit of a lower overall cost, a faster return on investment and you'll own all of the equipment. If that's not an option, you may want to consider a loan or lease. With these finance options, you can see immediate savings on your electricity bill once the solar system is installed. A typical solar loan or lease usually runs between 5 and 20 years with an option to purchase the equipment or renew the agreement at the end of the lease. Leasing is a viable option for many businesses, as a lease allows an entity to have solar installed while avoiding upfront costs, and still seeing monthly savings on electricity costs.
Reliability and Maintenance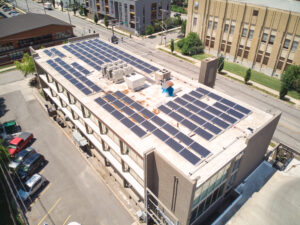 Solar panels require little to no upkeep. Protective glass framed in high-quality aluminum covers the solar cells. This allows the panels to withstand extreme weather, rain, snow, and hail. On top of that, they don't produce any noise or waste.
You can rest assured your solar panel installation will be designed and installed by a team of NABCEP© certified professionals. We have absolute confidence in our panels' ability to deliver more energy, reliability and savings over time. That's why we also include a separate workmanship warranty on the installation of our systems.
If you want to see if solar makes sense for your operation, we can look at your history of electrical usage and property to figure out the best options to help you save money on your bottom line. Contact us today.