UPDATE (August 16, 2022): The Inflation Reduction Act was signed into law by President Biden. The package will pump $369 billion into programs to fight climate change, boost energy security and lower electricity costs for consumers. Most of those investments will come in the form of financial incentives — such as tax breaks and rebates — for households and businesses.
The Inflation Reduction Act was passed Sunday in the Senate and will head to the House next week, where it is expected to be approved by a narrow majority. Among other benefits, the bill will have a major impact on making solar and electric vehicles more affordable to homeowners in the United States.
The legislation revives a 30% tax credit for installing residential solar panels and extends the program until Dec. 31, 2034. If you already had a solar project scheduled or completed in 2022, you would get the 30% tax credit instead of the current 26%.
Homeowners who install solar battery systems with at least three kilowatt-hours of capacity would also qualify for the tax credit.
The bill also includes ​​tax credits of up to $7,500 for the purchase of a new electric vehicle and $4,000 for lower- and middle-income families who purchase a used EV. Couples who earn less than $300,000 a year or individuals who earn less than $150,000 a year would be eligible for the credits, and consumers would get the discount at the dealership.
The Inflation Reduction Act also includes more solar incentives for commercial operations and non-profits, including charities, schools, and local government organizations.
The bill will go to the House of Representatives to be voted after the August recess within the next week. And if the bill is passed, President Joe Biden will sign it soon after.  We will continue to monitor the bill's progress and update this blog post with new developments as they occur.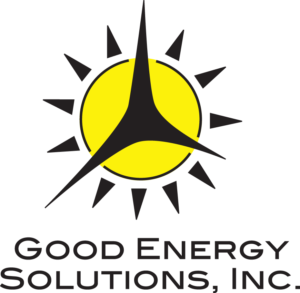 Our mission at Good Energy Solutions is to provide our customers with honest, real solutions to reduce their fossil fuel consumption and lower their long term energy costs. Our combination of hands-on experience, education, and outstanding customer service make our company the clear choice to help you achieve your energy goals.
Founded in 2007 by Kevin and Shana Good, Good Energy Solutions has earned a reputation for our expert reliable service, long workmanship warranties, and quality commercial and residential solar installations.
We are engineers and craftsmen designing for efficiency while keeping aesthetics and longevity in mind. Because of our installation quality and customer service, Good Energy Solutions' solar panel systems feature some of the longest product and service warranties in Kansas and Missouri. Also, we have more NABCEP® Certified Solar Professionals on staff than any other company in Kansas or Missouri.  To achieve this certification, PV installers must demonstrate that they possess extensive solar PV installation experience, have received advanced training, and passed the rigorous NABCEP certification exam.
If you would like to know more about solar power for your home or business, contact us here.