The City of West Plains has started work on a new solar farm that will provide roughly 7 percent of the city's electricity needs.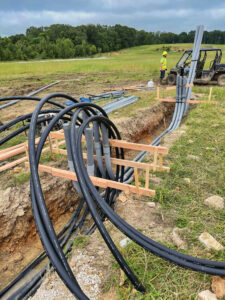 The new project is located on 40 acres of property owned by the City of West Plains near its landfill north of town. After construction has completed, it will be the largest municipal-owned solar farm in the state of Missouri.
Evergy has contracted Good Energy Solutions to assist on the project.  Currently our crews are digging trenches, laying the conduit and running the wiring for the project.
Planners for the The West Plains Solar Farm expect to generate 8 Megawatts of electricity, which is enough renewable energy to power over 1,440 homes annually. 
West Plains officials decided to construct the solar farm to help curb the future costs of electricity as it continues to go up in price over time.
Once construction concludes on the solar farm, Evergy will plant pollinator-friendly grasses and plants at the site to create an environmentally-sustainable footprint. There are also plans to work with local schools and Missouri State University-West Plains to provide opportunities for students interested in renewable-energy technology, business application classes, environmental impact studies, and pre-and-post construction of the site.
We will be sure to post more images of the project as it continues on our Instagram and Facebook social media accounts.