Metal roofs and solar panels make the perfect match.  When it comes to ease of installation, durability, environmental benefits and cost savings, solar arrays installed on metal roofs can provide home owners excellent benefits.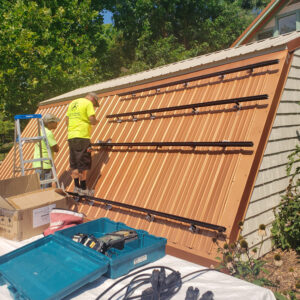 Metal roofs are usually made of light, long-lasting materials.  After they wear out, homeowners can recycle most metal roofs, making them an excellent choice for those searching for an eco-friendly alternative to standard asphalt roof shingles. Also metal roofs can better withstand severe weather like hail, heavy rain, snow and high winds. Metal roofs have also been credited for protecting homes during forest and brush fires.  In some cases that can lead to a reduction in your homeowners insurance premiums.  Also metal roofs have a much longer expected life span than traditional asphalt shingles, lasting in some cases more than 60 years.
Solar panels and metal roofs share one very important feature: energy savings. As energy rates continue to rise, many homeowners look for solutions to lower their electricity usage. Reflective metal roofing can save homeowners an average of 40% on their summer electricity bills by reducing attack air temperatures by as much as 12 degrees Fahrenheit. Much like solar panels, metal roofs are an environmentally friendly, maintenance-free, and cost-saving addition to any home.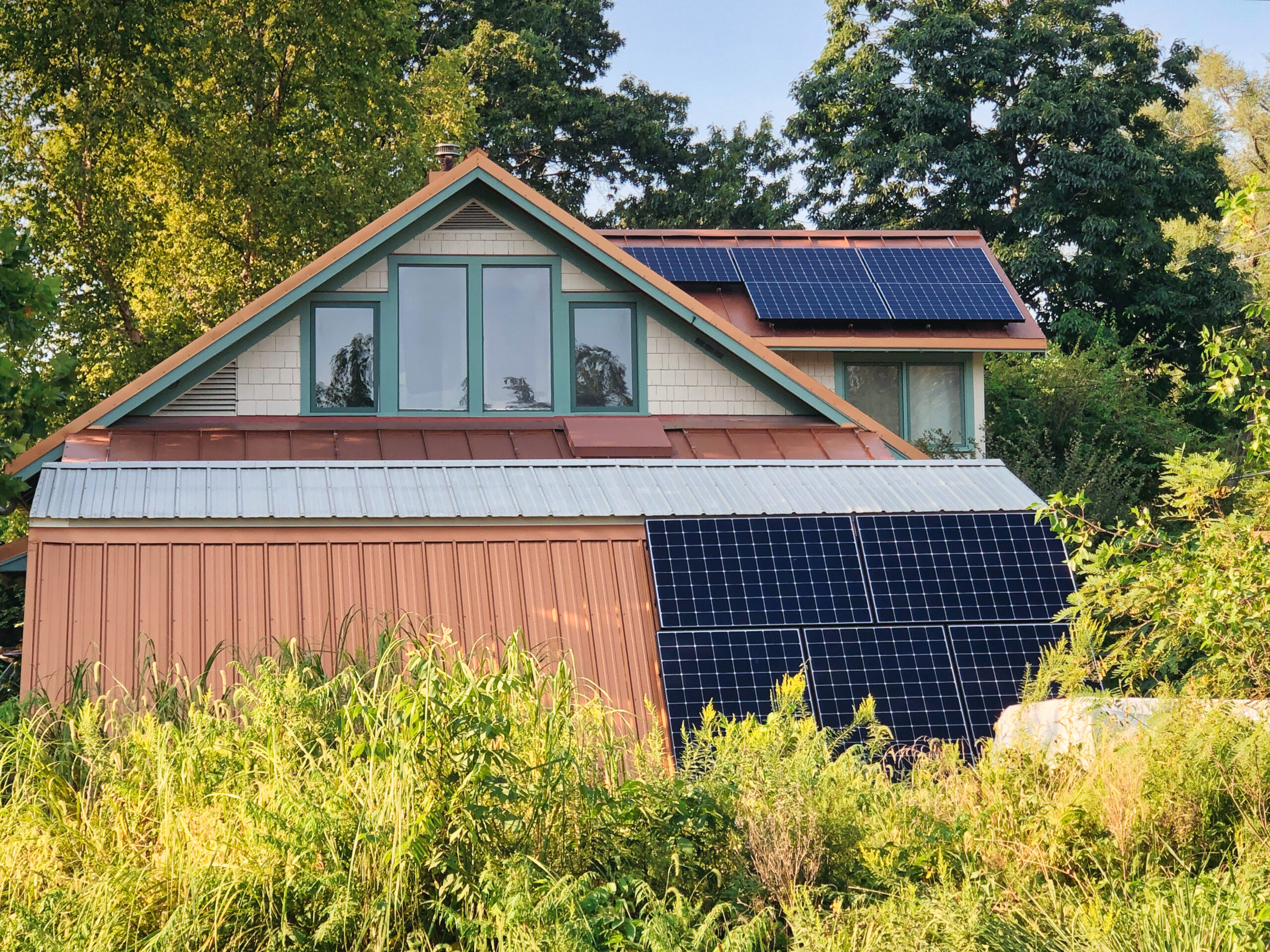 It's easy to mount solar panels on a metal roof. Usually solar installers drill holes into a typical asphalt shingle roof when they attach the mounting rails for your solar system. This can cause concern for some homeowners, as an improperly installed solar panel system can cause leaks or other roof issues.  When choosing a company to install your solar panels, make sure they offer workmanship warranties and have a long track record of proven customer service.  Also look for a company that employs NABCEP certified installers.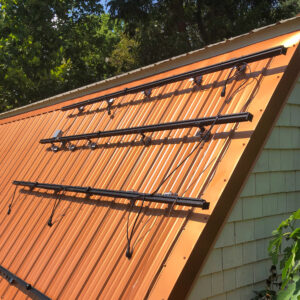 If you have a metal roof, your solar installer probably won't need to drill any holes in your roof at all, virtually eliminating the possibility of issues down the road. With a standing seam metal roof, we can attach rails that clamp onto the seams.  This usually takes less time to install, reducing your labor costs.
Even better, solar panels can maximize your energy savings by helping to shade the surface of your metal roof, keeping your home cooler in the spring and summer.
If you want to maximize your home's energy savings in a truly eco-friendly way, combining solar panels with a metal roof is the best way to go.  Both are recyclable at the end of their lifespan and encouraged by green building certification programs like LEED and Energy Star.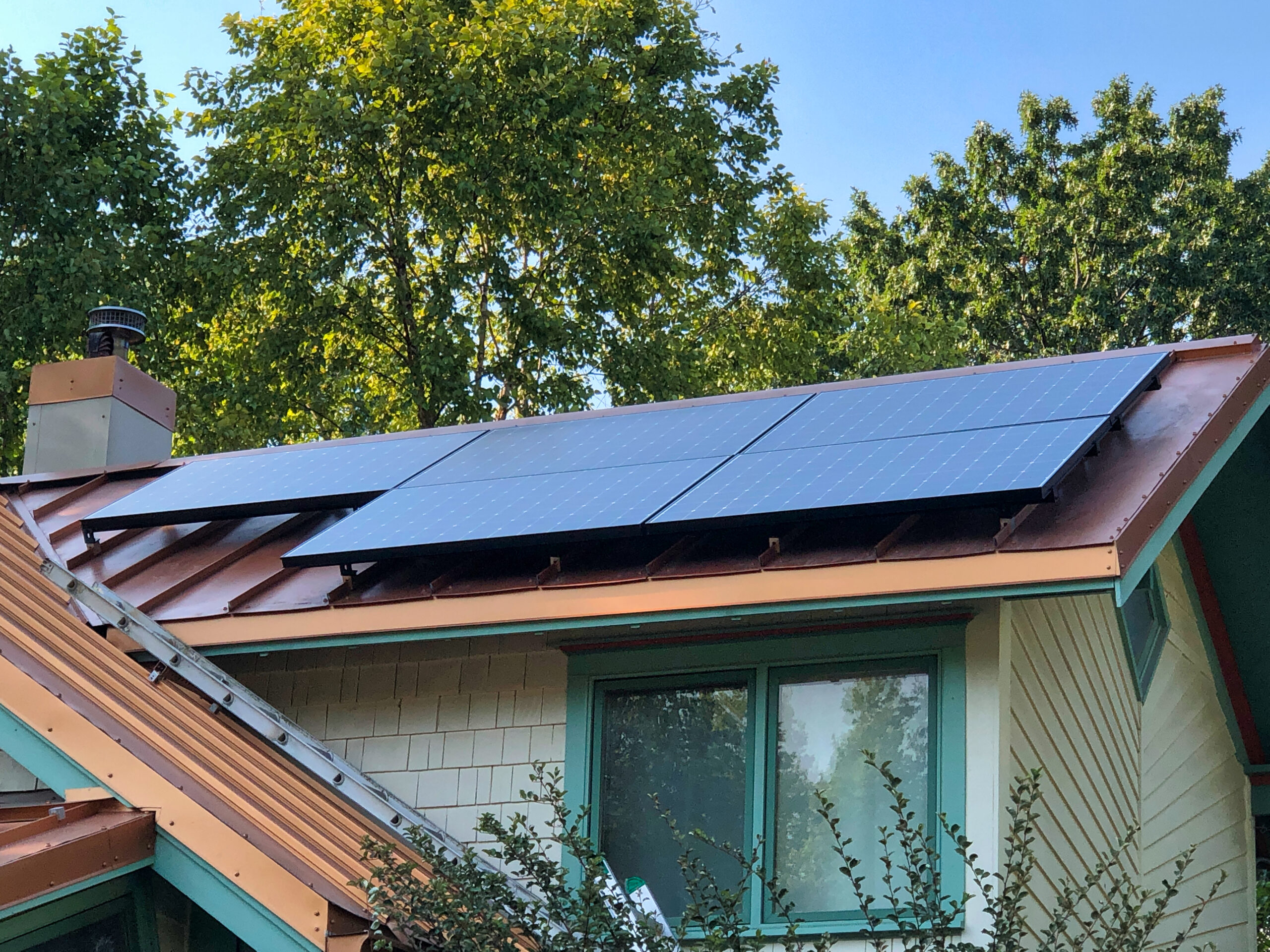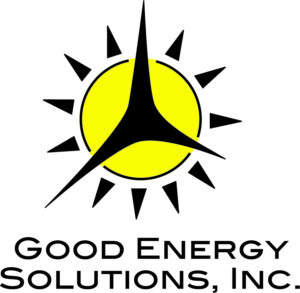 Our mission at Good Energy Solutions is to provide our customers with honest, real solutions to reduce their fossil fuel consumption and lower their long term energy costs. "Energy with Integrity" isn't just a company slogan, it's how we do business. 
Founded in 2007 by Kevin and Shana Good, Good Energy Solutions has earned a reputation for our expert reliable service, long workmanship warranties, and quality commercial and residential solar installations. 
If you would like to know more about solar power for your home or business, contact us here.