As renewable energy becomes more and more commonplace in our communities, several solar myths continue to surround this clean and efficient technology.  The bottom line on solar power: it saves money and creates far less pollution than almost any other energy source in the world.  With a power source that sounds "too good to be true," we encounter several myths when educating solar critics.  Here are a few facts that you should know about solar energy.
Myth 1: It's Overpriced
In just the last 5 years, solar panels have seen an 11% price decline. As the cost continues to drop, the technology has surpassed its competitors like coal and nuclear as the cheapest options for new energy development. 
When it comes to installing solar panels on your home or business, the federal government offers a tax credit of 30% for residential and commercial projects.  That means most people can recoup more than a quarter of the cost of their solar installation if it becomes operational this year.

For many who finance their solar panel installations, they can see a positive cashflow right away depending on the interest rate and loan terms.  By taking advantage of options like solar financing or home equity loans, many homeowners see monthly savings with a loan payment that is less than their electricity bill.
Myth 2: Solar doesn't work year-round.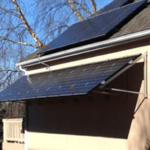 Missouri has approximately 206 days of sun each year while Kansas averages 230 sunny days a year.  Although output tends to lower in winter months, solar provides a good year-round option for power generation.  Even on cloudy days, the sun can still penetrate a gloomy sky to generate electricity, although at a lower level.
Let's look at the global leader in renewable energy to debunk this solar myth.  Germany accounts for 25 percent of the world's solar energy output while enduring cold winters and some of the lowest recorded hours of sunshine. This proves solar energy can operate efficiently in environments even cooler and cloudier than the Midwest.  
Myth 3: Solar panels don't last very long.
Here at Good Energy Solutions, we sell Maxeon solar panels.  We believe they are an excellent choice on the market for anyone who wants a solar panel that will last a long time with less energy degradation than other brands.  Maxeon backs up their modules with an industry-leading 40 year warranty.
You want a solar panel with a lower degradation rate as it will produce more energy over its lifespan. Degradation rates of solar panels depend on the brand. Of course, higher-quality panels, like the ones produced by Maxeon, will have a lower degradation rate than cheaper, low quality panels. The lower the degradation rate, the better the solar panel and the longer you can expect it to last.
Myth 4: A solar array will damage my roof.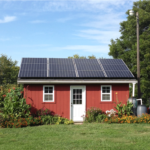 Solar panels actually protect your roof, shielding shingles from hail and UV damage, extending your roof's lifespan. It's important that you have a trusted solar installer handling the placement of your panels.  Partner with a reputable company that has verified reviews and installs solar panels with the proper techniques, materials, and tools to avoid damages to your roof. 
Another thing solar shoppers should look for when choosing a solar contractor is the seal of the North American Board of Certified Energy Practitioners.  NABCEP-certified installers and licensed electricians uphold the highest standards when it comes to solar installations.  Good Energy Solutions designs and installs all of our projects with NABCEP-certified solar professionals.
Myth 5: Solar panels need a lot of maintenance.
Most solar panels are built to be extremely durable and withstand harsh weather conditions.  With no moving parts to worry about, a stationary roof-mount or ground-mounted solar system needs very little maintenance.  Most panels don't need to be regularly cleaned or touched.
Weather rarely causes trouble for solar installations.  Rain usually clears away any dirt that may accumulate on the panels.  With most solar panels in Kansas and Missouri installed facing the south, snow melts quickly in the winter.  Wind conditions in the Midwest rarely have enough power to damage a well-designed solar installation.
Most solar installations come with an app that lets you monitor the amount of power generated.  If you notice an irregular dip in power, you may want to contact your solar installer.  It's important to work with a reputable solar company that warranties their work, installs quality equipment and provides strong customer service in order to keep your system from experiencing long periods of low power production.
Need More Solar Myths Debunked?
If you have any other concerns about solar energy, need more solar myths debunked or if you would like to know if it makes sense for your situation, contact us here. One of our consultants will be happy to go over the numbers with you and show you how much money you could save with a new solar installation.