Update May 2023 – Good Energy Solutions has chosen to award The Willow Domestic Violence Center a free solar panel system for their main office in Lawrence, Kansas. We will post updates on social media and our website as the project progresses.
Douglas County continues to weather another turbulent year for 2022, with budget cuts for several local nonprofits, rising demand for public services and difficulties for many of our neighbors in the community to make ends meet. As a small business that appreciates all of the support we've received from everyone in the Lawrence area, Good Energy Solutions wants to give back.  We need your help to find a deserving nonprofit in the community as we aim to give away a solar energy system.
By installing a new solar energy system, we can lower a nonprofit organization's electric bill, so they can use more of their money to help others, and give less to the utility company.
Since 2017 Good Energy Solutions has given away 3 solar energy projects:
Van Go, an arts-based social service agency aimed at youth 14-24.
Sunrise Project, an organization that provides space and opportunities for people of all ages and backgrounds to build an equitable community through education, good food, and social connection.
Ballard Center, an organization that provides rent and utility assistance, a food and clothing pantry, affordable pre-K childcare, and other needs-based services to the families of our children and others in the community who are in need.
After the announcement of our gift to Sunrise Project, an anonymous community member donated a solar energy system to Just Food, a food pantry that serves 150-300 families a day.
If your nonprofit is interested in earning a free solar energy system, please fill out the application below by December 31, 2022. If you have submitted an entry in prior years, please resubmit for 2023. Considerations of property, building structure, and shading are all important factors that help determine the optimal beneficiary of the solar giveaway. Follow us on Facebook @GoodEnergySolutions and look for the Good Energy Solutions announcement of the selected organization in January of 2023.
Thank you to all of the nonprofits and volunteers in our community who help to make Lawrence a great place to live.
2023 Solar Giveaway Nomination Form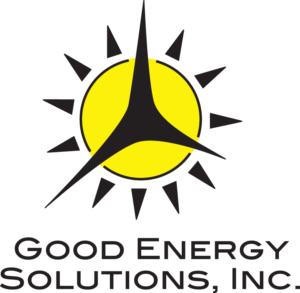 Our mission at Good Energy Solutions is to provide our customers with honest, real solutions to reduce their fossil fuel consumption and lower their long term energy costs. Our combination of hands-on experience, education, and outstanding customer service make our company the clear choice to help you achieve your energy goals.
Founded in 2007 by Kevin and Shana Good, Good Energy Solutions has earned a reputation for our expert reliable service, long workmanship warranties, and quality commercial and residential solar installations.
We are engineers and craftsmen designing for efficiency while keeping aesthetics and longevity in mind. Because of our installation quality and customer service, Good Energy Solutions' solar panel systems feature some of the longest product and service warranties in Kansas and Missouri. Also, we have more NABCEP® Certified Solar Professionals on staff than any other company in Kansas or Missouri.  To achieve this certification, PV installers must demonstrate that they possess extensive solar PV installation experience, have received advanced training, and passed the rigorous NABCEP certification exam.
If you would like to know more about solar power for your home or business, contact us here.