Not all solar power systems will keep the lights on during a power outage. With "grid-tied" solar systems, they must be specifically designed and listed to prevent power from flowing back onto the utility service lines when your home or business loses power. This system disconnect is created in order to protect utility workers attempting to reestablish power during an emergency. The grid and all systems tied to it will shut down.
When the power goes out, your solar energy system needs a specific type of inverter to allow certain circuits in your building to remain functional while the sun shines. When the sun goes down, you'll also need a battery type energy storage system to continue powering your most important appliances and devices.
Solar Batteries as a Backup Solution for Power Outages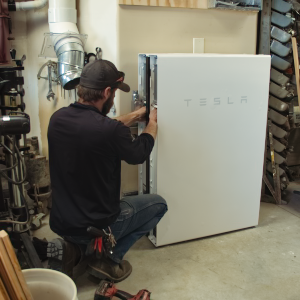 As the battery technology advances and continues to lower in price, it's becoming increasingly common for property owners to include a battery in the design of their solar systems. Although a battery will add cost to the price of going solar, they will continue to keep the power on while your neighbors sit in the dark during an outage.
The nice thing about owning a lithium-ion solar battery system is that they require no day-to-day operation or maintenance. Reliable and tested lead-acid type battery systems will require owner maintenance to remain optimal. Once you set up your battery configuration, it's ready to leap into action to power selected devices when a planned or unplanned blackout occurs. During the day, any excess solar power your system generates will charge the battery, and power home loads. After the battery is fully charged, all of the excess energy will go toward powering home loads, then the remaining energy goes to the grid for credits towards your electric bill.
Brands of Solar Batteries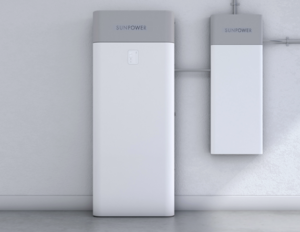 We primarily sell two brands of solar batteries at Good Energy Solutions. The Tesla Powerwall and SunPower SunVault both provide several options for how they supply power for your needs. For instance, if you anticipate severe weather or a scenario where a blackout may occur, you can shift your battery into an emergency mode, where all of your available solar energy will go towards making sure your battery stays fully charged. That way if you lose power, you have the peace of mind knowing that you have as much electricity available to you as possible when the blackout begins.
During an outage, your system will automatically disconnect from the grid and start supplying power to the specific electronics and appliances that you designated beforehand. The transition from the grid to battery power happens in less than a second and you may not even notice when the changeover occurs. Once power begins to flow from the grid again, your battery will automatically shift back.
Many factors go into figuring out if solar makes sense for your situation. If you would like to speak with one of our solar consultants, you can reach out to us here. They can take a look at how much energy you consume, come up with options for reducing your monthly electricity bill with solar and prepare your property for a power outage.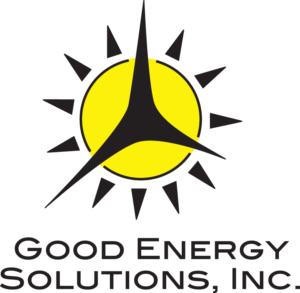 Our mission at Good Energy Solutions is to provide our customers with honest, real solutions to reduce their fossil fuel consumption and lower their long term energy costs. Our combination of hands-on experience, education, and outstanding customer service make our company the clear choice to help you achieve your energy goals.
Founded in 2007 by Kevin and Shana Good, Good Energy Solutions has earned a reputation for our expert reliable service, long workmanship warranties, and quality commercial and residential solar installations.
We are engineers and craftsmen designing for efficiency while keeping aesthetics and longevity in mind. Because of our installation quality and customer service, Good Energy Solutions' solar panel systems feature some of the longest product and service warranties in Kansas and Missouri. Also, we have more NABCEP® Certified Solar Professionals on staff than any other company in Kansas or Missouri.  To achieve this certification, PV installers must demonstrate that they possess extensive solar PV installation experience, have received advanced training, and passed the rigorous NABCEP certification exam.
If you would like to know more about solar power for your home or business, contact us here.