Solar Awnings and Pergolas
Solar Awning and Pergola Installation by Good Energy Solutions Available in Kansas and Missouri.
Solar Awnings and Pergolas are great solutions for both residential and commercial properties. Good Energy Solutions installs solar awnings and pergolas engineered to withstand wind speeds in the Central U.S. Region, including Kansas and Missouri. 
The benefits of a solar awning or pergola include:
Solar Awnings and Pergolas Provide Additional Space. Not all roof space is conducive to solar. Roof orientation, shading, and fire codes may decrease the amount of panels that can be put on a roof. A solar awning pr pergola provides additional space for solar panels when a larger solar system is desired.
Solar Awnings Reduce Energy Use. When mounted to the South and West sides of a building, the shade from the awning keeps the building cooler, effectively reducing air conditioning loads during long hot summer days. A solar awning both reduces energy use and generates energy.
Solar Awnings and Pergolas Provide Shelter. Solar Awnings can provide shelter from sun and rain.
Solar Awnings Generate More Energy Than Flush Mounted Systems. Awnings and pergolas provide cooler cell temperatures due to ample air flow beneath the modules.
| | | |
| --- | --- | --- |
| Quantity of SunPower Panels | System Size (kW) | kWh** Production, 1st Year |
| 8 Panels | 2.616 kW | 4045 kWh |
| 12 Panels | 3.924 kW | 6065 kWh |
| 16 Panels | 5.232 kW | 8090 kWh |
| 26 Panles | 7.848 kW | 12130 kWh |
Systems Include: Awning or Pergola Racking System, SunPower Modules, 25 Year Warranty, Labor, Interconnection Agreement.
**kWh production is based on SunPower 327 watt solar panels on a solar awning facing South with optimal conditions & no shading. Azimuth & site conditions may reduce kWh production. 
Commercial Solar Awnings* are very visible and show off the environmentally friendly intentions of a business or organization such as The Maker's Space Cooperative located in Lawrence, Kansas. The awning's shade keeps the summer sun from baking the concrete floor inside the garage doors and heating up the space. This allows the artists to keep the doors open to all interested passers bye. Read more about the Lawrence Maker's Space solar awning. 

Commercial Solar* Awning at the Baker Wetlands Visitor Center located in Lawrence, Kansas.
*Not a representation of SunPower 
Solar Canopy Provides Shelter
Brewery Emperial in the crossroads of Kansas City, Missouri expanded their backyard seating by providing shade and shelter from rain with their solar canopy.
---
Commercial Solar Awning Shade
Solar Awnings provide shade and architectural interest at the rainforest building at the Topeka, Kansas Zoo. Installed by Good Energy Solutions.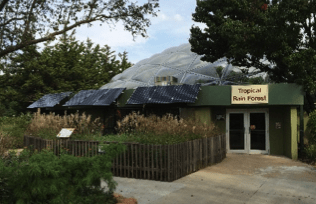 ---
Commercial Solar Awning Structure
This long awning structure was installed on the side of this visitor's center at the Baker Wetlands located in Lawrence, Kansas. This photo shows the structure before the solar panels were installed. The solar awning dramatically reduces cooling loads during the summer.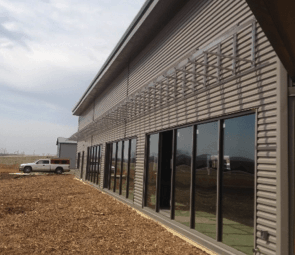 Solar Pergolas provide functional shade for homeowners whether it's poolside or for additional roof space for solar.
Solar Pergolas are a little more decorative for visual appeal at residential properties. Good Energy Solutions can design and install a solar pergola to suit your needs and are engineered to provide the support needed for solar panels and to withstand wind speeds in Kansas and Missouri. Consider a poolside solar pergola to power your pool pump or pool heater.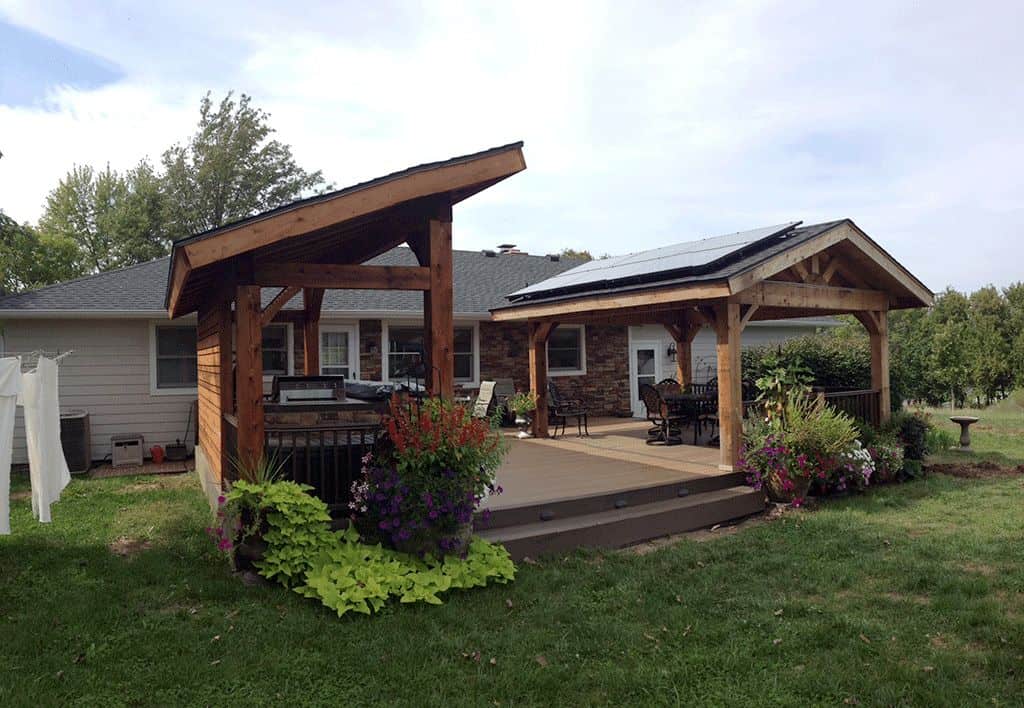 Solar Pergola Installation in DeSoto, KS.
The structure on the left covers the grill and outdoor kitchen. The system has 18 solar panels total, including those mounted on an outbuilding.
Additional Space for More Solar Panels on a Home Pergola.
This Kansas homeowner was able to add additional solar panels to their custom built pergola to increase the size of their solar array.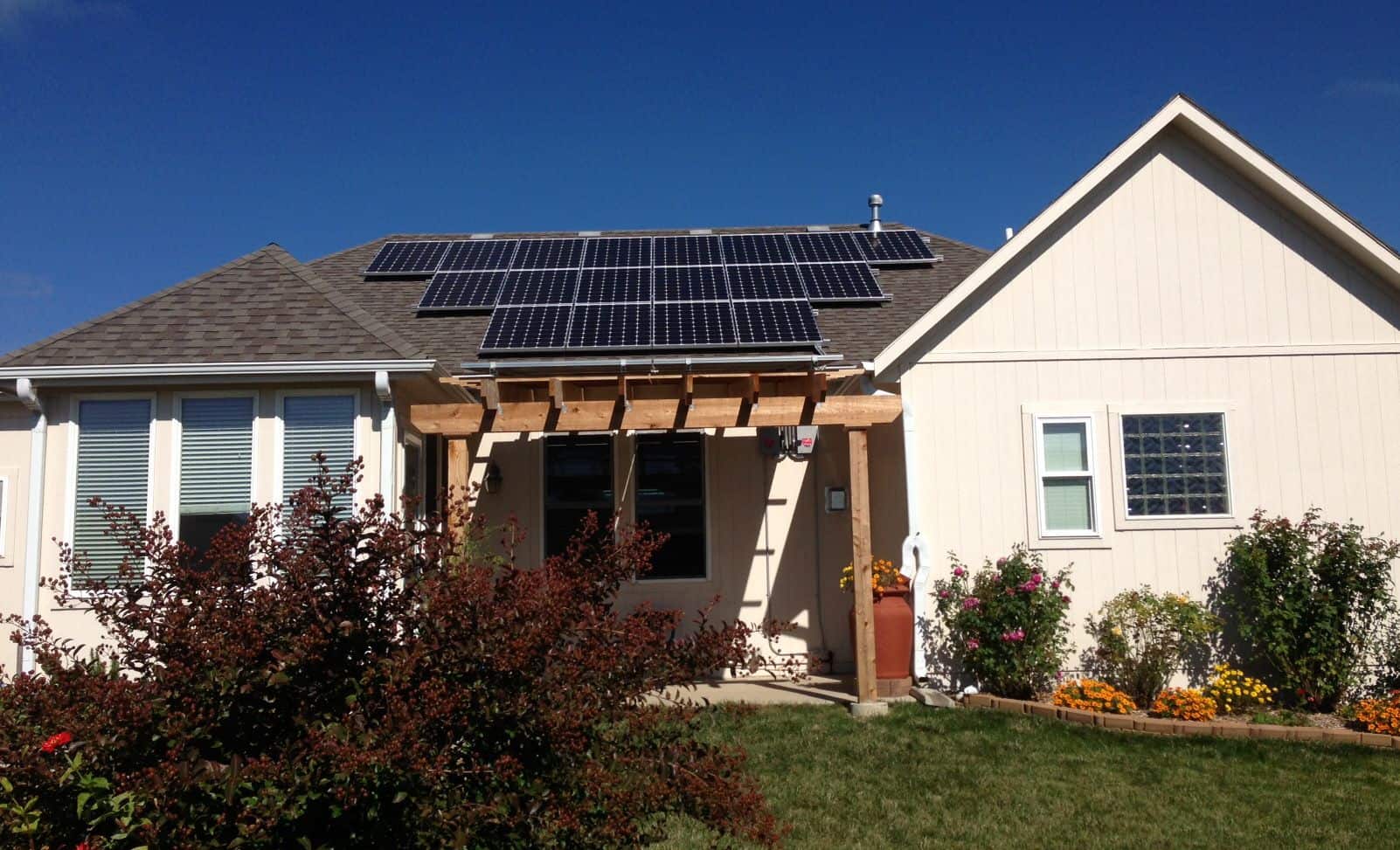 Additional Space for More Solar Panels
Installing a Solar Awning on the side of this home enabled us to install an additional 2.5kW of Solar PV*.