The Size of a Solar PV System for your home is dependent upon many factors, including the number of kW's of electricity needed, the available space, and the cost.
So, what size solar pv system do I need? Currently, the average 60 cell residential solar panel module is 290W and measures 65in x 39in. SunPower's 96 cell module is 61in x 41in and makes 327W. The average need for a residential home is 8kWs (grid-tied system). With SunPower, that's about 25 panels compared to 28 conventional solar panels. An owner would need about 10'4″ by 44′ of space for the SunPower Solar PV System vs. 11′ by 46′ for the conventional solar PV system. If a homeowner does not have enough unshaded roof space, multiple roof faces can be used, or the array can be mounted on the ground.
If an owner uses more energy than the average home, he or she will need more panels. A bigger system is needed for those who live off-grid so that the batteries store enough energy to power the home overnight. In general, solar PV systems that are customized to the owner's needs are more beneficial.
Good Energy Solutions is an Authorized Dealer of SunPower. Contact Us to have a Good Energy Solutions representative help you determine the perfect SunPower solar pv system for your home. See our easy process, photos and customer reviews of home solar installations by Good Energy Solutions.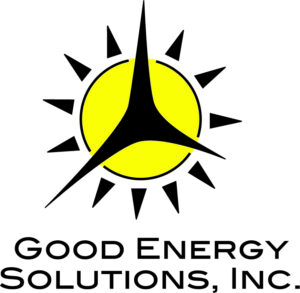 Our mission at Good Energy Solutions is to provide our customers with honest, real solutions to reduce their fossil fuel consumption and lower their long term energy costs. "Energy with Integrity" isn't just a company slogan, it's how we do business. 
Founded in 2007 by Kevin and Shana Good, Good Energy Solutions has earned a reputation for our expert reliable service, long workmanship warranties, and quality commercial and residential solar installations. 
If you would like to know more about solar power for your home or business, contact us here.