Your home's energy efficiency plays a big role in the size of your carbon footprint.  With rising utility rates, changing weather trends and wasted electricity, having a smaller carbon footprint could reduce your energy bill and save you lots of money in the near future.
While installing solar panels on your home can greatly reduce the amount of energy you have to buy from month to month, it also can cut down on the amount of fossil fuels needed by your utility provider to burn.  By needing less electricity, power plants pollute less, leading to more conservation of our natural resources and a healthier planet.
If you're still contemplating whether solar energy can help you save money and reduce the amount of greenhouse gas generated in order to power your home, there are plenty of smaller solutions that you can try in the meantime.  Here are a few simple straightforward strategies to help lower your electricity usage and reduce your energy bill.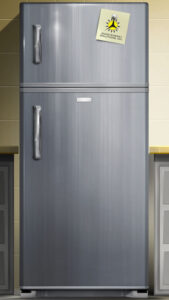 Refrigerator
If you have an older model, you may want to consider replacing it with a new energy efficient fridge. A highly-efficient model from 5 or 10 years ago could easily be costing you twice more to run than a newer model.  Also, make sure your refrigerator has at least 2 inches of space from the wall in order to let the hot air from the compressor escape through the vents. This will keep your fridge from working as hard to maintain the cold temperatures inside.  And this seems like a no-brainer, but try to avoid leaving the refrigerator door open while searching for what you need.  Keeping the door open less means the fridge will use less electricity.
Dishwashers
According to the California Energy Commission, using an Energy Star-qualified dishwasher instead of hand washing can save you, on average, 5,000 gallons of water, $40 in utility costs, and 230 hours of your time each year.  Even with all of these savings, there's still more you can do to trim down on the amount of electricity you use to wash the dishes.  If you opt-out of the heated drying cycle and instead crack the door open to air-dry your dishes after they finish washing, you can reduce the amount of energy you use by 15 to 50 percent.
Light Bulbs
Get rid of your traditional light bulbs and replace them with LEDs.  They will last up to 40 times longer than a standard incandescent light bulb and use at least 75% less energy.  On top of all of that, they run much cooler than incandescents, making them much safer reducing the chance of burning your fingers or combustion.
Ovens
These appliances can use a lot of electricity to cook your food. To reduce their energy usage, turn the burner off a bit early. The heat from the element will continue to radiate some heating finishing off your dish.  Also, keep your oven door closed while cooking. Everytime you open the door in the middle of a cooking session, the oven will lose around 25 degrees of heat, costing you more electricity as it must work harder to get the temperature back to it's prior level. Instead use the oven's light to look through the glass at your food.  For smaller dishes, use a toaster oven or microwave. These use substantially less power than a standard electric oven.
Programmable Thermostats
Heating accounts for around 45 percent of your home's energy usage during the winter months. A programmable thermostat set to 68 degrees while you're home and lowered during sleeping hours and while you're away can reduce your heating bill by 10 percent.  
Electrical Outlets
Many of the devices we leave plugged into our walls suck energy even when they are turned off. Smart TVs, monitors, computers, game consoles and other electronics will continue to draw power unless you remove their plugs from the wall socket.  If you want to leave your electronics plugged in, consider using a powerstrip that eliminates the constant electrical draw like ones produced by Tricklestar or Simply Conserve.
These simple steps can go a long way to reduce your energy bill and shrink your home's carbon footprint.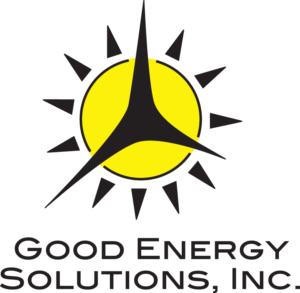 Our mission at Good Energy Solutions is to provide our customers with honest, real solutions to reduce their fossil fuel consumption and lower their long term energy costs. Our combination of hands-on experience, education, and outstanding customer service make our company the clear choice to help you achieve your energy goals.
Founded in 2007 by Kevin and Shana Good, Good Energy Solutions has earned a reputation for our expert reliable service, long workmanship warranties, and quality commercial and residential solar installations.
We are engineers and craftsmen designing for efficiency while keeping aesthetics and longevity in mind. Because of our installation quality and customer service, Good Energy Solutions' solar panel systems feature some of the longest product and service warranties in Kansas and Missouri. Also, we have more NABCEP® Certified Solar Professionals on staff than any other company in Kansas or Missouri.  To achieve this certification, PV installers must demonstrate that they possess extensive solar PV installation experience, have received advanced training, and passed the rigorous NABCEP certification exam.
If you would like to know more about solar power for your home or business, contact us here.