Lower Energy Costs at Home and at Your Business with Energy Efficiencies, LEDs.
---
At Good Energy Solutions we want to help you lower your energy costs by first reducing your energy use with energy efficiencies.
Efficiencies like LED lights and Energy Efficient HVAC Systems can greatly reduce your energy use and therefore you don't need to store or create as much energy in the first place. Lighting typically accounts for 20-30% of your electric bill and according to the Consumer Energy Center of California, 44% of your utility bill goes for heating and cooling.
HVAC Efficiencies
We can diagnose the power consumption of the fan motors that move air or pumps that move fluids throughout a building and provide options for changing the equipment to reduce the demands of these appliances by 30%-70%. Most homes and offices pay 50% or more of their bills for space conditioning.  Replacing motors and pumps are a relatively inexpensive upgrade that pay for themselves in 1 to 2 years or less for some applications. The cost savings could be 20% or more of the entire energy bills for the building.
Most new construction projects use the less costly older equipment to stay on budget, but the long term costs of the older technology quickly would have paid for the newer, more efficient equipment.  The actual costs of blowers and pumps are a small fraction of the overall cost of buying and powering that equipment over their lifetime.
For homes we have a blower fan unit that can be simply installed in an existing furnace and will cut energy consumption by 35% or more. These units employ permanent magnet, variable speed motors and an innovative fan design to create amazing reductions in energy use. These units run most of the summer to supply air conditioning and most of the winter to supply heating.  By reducing such a large amount of energy use for over half of the year, we can help you take steps towards a net zero home.
Insulation
One of the best ways to reduce energy use is one of the simplest of technologies. Insulating your home or commercial property can reduce energy loss dramatically. Air that leaks through your home's envelope − the outer walls, windows, doors, and other openings − wastes a lot of energy and increases your utility costs. A well-sealed envelope, coupled with the right amount of insulation, can make a real difference on your bills. Plus, you will feel the comfort level immediately with less drafts in the winter, and less pollen, dust and insects in the summer!
LEDs
One of the easiest ways to reduce your energy bill is with LED lighting.  Good Energy Solutions works with suppliers that offer quality LEDs that don't flicker like some of the cheaper LEDs found in big box stores.
Whether for your home or business we can help you find the LED that best meets your needs. Express your style with exterior accent lighting or under cabinet lights in your kitchen or bath that won't drive your electric bill through the roof.
If you are looking to cut costs for your business, LED lights can also reduce your cooling costs since they generate very little heat. Concerned about the cost of replacing fixtures? Don't be, retrofit LEDs work with existing fixtures. 
Give us a call and let's get you started saving energy and money today.
Neurio Home Energy Monitor
Use either the smartphone ap or the website to track your home power use in real time. It's a great way to learn how you can use less energy in your home and leave more dollars in your wallet.
Good Energy Solutions can order and install your Neurio Sensor so you can get started monitoring and saving energy today. Give us a call to get started.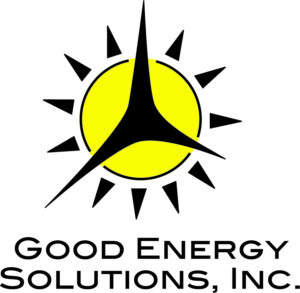 Our mission at Good Energy Solutions is to provide our customers with honest, real solutions to reduce their fossil fuel consumption and lower their long term energy costs. "Energy with Integrity" isn't just a company slogan, it's how we do business. 
Founded in 2007 by Kevin and Shana Good, Good Energy Solutions has earned a reputation for our expert reliable service, long workmanship warranties, and quality commercial and residential solar installations. 
If you would like to know more about solar power for your home or business, contact us here.