Nonprofit organization Tenants to Homeowners has completed its first affordable home that utilizes solar power. The two-bedroom, 925-square-foot home at 1443 Prairie Avenue is available for purchase now.  The home was built on a lot that allows the nonprofit to take advantage of Lawrence's density bonus.  This rule allows two affordable homes on one lot as long as each house's lot is at least 3,000 square feet.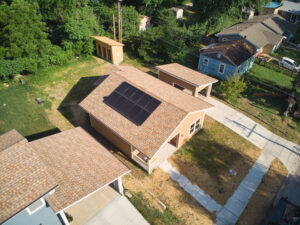 Tenants to Homeowners looked to Good Energy Solutions to install the solar panels for this project. We supplied the Lawrence nonprofit with 10 SunPower 335 Watt panels.
Just like other Tenants to Homeowners homes, this solar-powered house can be purchased at an affordable price to a qualifying owner.  The house will remain in a permanently affordable community land trust for future homeowners.
Here are a few images that show off the outside of the home and the solar panel installation on the roof:
Tenants to Homeowners, is a local Lawrence, KS nonprofit that has helped more than 350 families become homeowners since 1992. TTH also provides 70 affordable rentals and reaches more than 300 people annually through homebuyer education workshops and presentations to help equip families to be successful homeowners.
For its homeowners, TTH also provides maintenance workshops, post-purchase counseling and foreclosure prevention advocacy. The Housing Trust has a 0% foreclosure rate since it was adopted in 2005.
To see more images from the open house held by Tenants to Homeowners on June 18th, visit the Lawrence Journal-World here.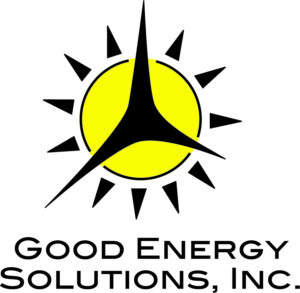 Our mission at Good Energy Solutions is to provide our customers with honest, real solutions to reduce their fossil fuel consumption and lower their long term energy costs. "Energy with Integrity" isn't just a company slogan, it's how we do business. 
Founded in 2007 by Kevin and Shana Good, Good Energy Solutions has earned a reputation for our expert reliable service, long workmanship warranties, and quality commercial and residential solar installations. 
If you would like to know more about solar power for your home or business, contact us here.