It's always nice to receive recognition from a reputable news organization like Ingram's Magazine. Recently they released their yearly "50 Kansans You Should Know" list and Good Energy Solutions' president and cofounder, Kevin Good made the cut.
Ingram's Magazine created the list of notable business, nonprofit and government leaders as a way to shine a spotlight on the Kansans that are pushing the state's economy forward. The Kansas City publisher believes "In doing so, they elevate the quality of life for nearly 3 million residents."
Mr. Good was recognized for his track record of building a thriving business that specializes in residential and commercial solar installation. According to the Kansas City-based business magazine, "The Lawrence company he and his wife founded in 2007 is on a four-year winning streak in Ingram's Corporate Report 100, a list of the fastest-growing companies in the Kansas City area."
One of the reasons Good has enjoyed continued success with his company can be summed up in one word, quality. From the high-caliber people that he hires, to the best in class solar equipment installed on homes and businesses, to the workmanship warranties his company guarantees for 25 years, it all starts with offering customers a best-in-class experience Good says, "People that hire us are amazing in their own right because they are pioneers— they're thinking forward, and that's really why we started this in the first place."
Ingrams.com is the online presence for Ingram's Media and Ingram's Magazine, the leading business publication in Missouri and Kansas for more than 45 years. The publication primarily covers business, industry and economic development trends throughout the bi-state region.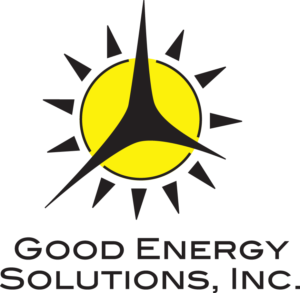 Our mission at Good Energy Solutions is to provide our customers with honest, real solutions to reduce their fossil fuel consumption and lower their long term energy costs. Our combination of hands-on experience, education, and outstanding customer service make our company the clear choice to help you achieve your energy goals.
Founded in 2007 by Kevin and Shana Good, Good Energy Solutions has earned a reputation for our expert reliable service, long workmanship warranties, and quality commercial and residential solar installations.
We are engineers and craftsmen designing for efficiency while keeping aesthetics and longevity in mind. Because of our installation quality and customer service, Good Energy Solutions' solar panel systems feature some of the longest product and service warranties in Kansas and Missouri. Also, we have more NABCEP® Certified Solar Professionals on staff than any other company in Kansas or Missouri.  To achieve this certification, PV installers must demonstrate that they possess extensive solar PV installation experience, have received advanced training, and passed the rigorous NABCEP certification exam.
If you would like to know more about solar power for your home or business, contact us here.