A solar panel system for your home not only will save you money, but also help reduce your solar footprint.  Before making the investment, you need to make sure your property is a good candidate for solar.  If you don't have enough land for a ground mount system, installing solar panels on your roof will be your only option.  Before you sign a contract, here are a few factors that you need to keep in mind when deciding whether you want to install a roof-mounted solar system.
Direction
The sun showers Kansas and Missouri homes with light more than 200 days a year. When it comes to prime exposure, roofs that are orientated towards the south usually receive the most energy from the sun.  If your roof is primarily orientated towards another direction, it may make sense to install your some of your solar panels facing towards the west with the rest facing east in order to maximize energy production throughout the day.
Shading
Trees are great, but not always compatible with a roof-mounted solar system.  When large trees are located on the south side of your house they can block the midday sun. That can make a negative impact on your daily solar energy production.  Also in colder months when the sun is at a lower angle, they could shade your solar panels even more.
Other things can shade your solar panels like chimneys, vents and neighboring buildings.  Sometimes we can design a solar system that will take into account these obstructions, in order to place your panels in such a way as to get you as much energy production as possible.
Angle
Just like other factors that affect solar energy production, your roof's slope makes a direct impact on efficiency. Typically, a 30-degree roof angle will give you the best efficiency. Whether you own a home with a steep gable or a flat roof, we can utilize a ballast system that will orientate your panels at an angle to maximize power production.
Space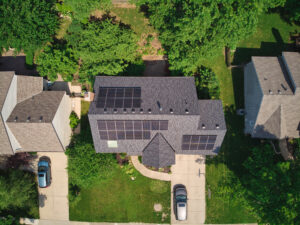 The number of solar panels you can install ultimately is limited by the size of your roof.  If you want to get a general idea of how many panels can fit on your roof multiply the square footage by .75. This will account for what's called solar set back or the space needed for first responders to get access to your roof in case of emergency.  Local governments will have differing rules for the amount of solar set back needed for your project, but we can figure that out when designing your system. Take that number and divide it by 17.5 (the average square footage of a standard solar panel).
So, if your roof is 2,000 square feet in size, we would use the following formula to figure out how many panels it can theoretically hold: 2,000 x .75 = 1,500.  1,500/17.5 = 85 panels.
Age
If you are planning to replace your roof in 1 to 3 years, it may make financial sense to wait to install solar panels or speed up your roof plans.  It can cost between $6,000 and $10,000 to take down solar panels and then reinstall them after your new roof is complete. Asphalt Shingle/Composition Roofs have a life expectantcy of around 20 years.
Also, an engineer will need to determine if your roof, especially if it is older, can accomodate the extra weight from new solar panels.
If you have questions about your roof and if it's a good candidate for solar panels, we're happy to help. Good Energy Solutions always performs a thorough evaluation before designing and bidding your solar system.  We'll make sure that you have all of the information you'll need before making a decision about solar.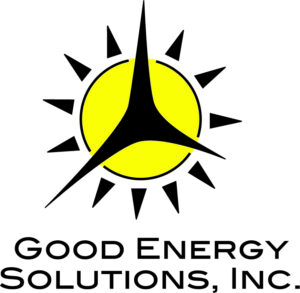 Our mission at Good Energy Solutions is to provide our customers with honest, real solutions to reduce their fossil fuel consumption and lower their long term energy costs. "Energy with Integrity" isn't just a company slogan, it's how we do business. 
Founded in 2007 by Kevin and Shana Good, Good Energy Solutions has earned a reputation for our expert reliable service, long workmanship warranties, and quality commercial and residential solar installations. 
If you would like to know more about solar power for your home or business, contact us here.