As we kick off the new year, the forecast for solar looks sunny. According to
Bloomberg Intelligence
, demand for solar is expected to increase by 20 to 30% in 2023. There are several reasons for this continuing shift in the energy sector. The rising cost of energy, government incentives and advances in technology continue to make solar an attractive technology for homeowners and businesses.
Federal Tax Credits
The biggest change in 2023 for those looking to add solar panels to their homes and commercial buildings is the expansion of the Residential Clean Energy Credit. With the passage of the Inflation Reduction Act last year, the government will issue you a 30% tax credit for the cost of your new solar panel installation. SEIA believes that the passage of the Inflation Reduction Act will lead to 69% more solar deployment.
Grants for Commercial Solar in Small Towns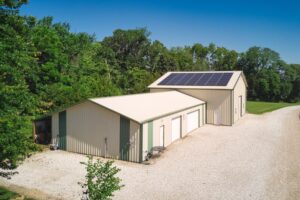 For business owners in rural communities, the REAP grant makes solar extremely attractive. The Rural Energy for America Program gives businesses located in areas with populations of 50,000 residents or less access to grant money that can pay a major portion of the costs associated with installing solar panels. For many solar projects, the REAP grant can help cover a majority of the cost for rural commercial projects. Between the REAP grant (40% of the project cost), the 30% federal tax credit from the Inflation Reduction Act, depreciation and other incentives, many rural business owners would only have to pay a small fraction of the actual costs of installing solar on their property.
The Rising Cost of Electricity
Energy prices continue to go up across the country. According to Choose Energy, the cost for residential electricity increased 14.3% in Kansas and 10.7% in Missouri. The rates for commercial electricity also rose by 17.1% in Kansas and 7.7% in Missouri. Volatility can strike almost any energy market in the United States due to issues with extreme weather, market demand and changes in production of fossil fuels. Many power plants use natural gas or coal to generate electricity. "Higher retail electricity prices largely reflect an increase in wholesale power prices driven by rising natural gas prices," according to the National Energy Assistance Directors Association.
By installing solar panels on your home or business, you remove much of your reliance on energy that is produced through volatile fossil fuel markets. Solar can help stabilize your monthly electricity bill, so you know what to expect to pay every month, whether you pay for your solar installation out of pocket or through a loan.
Advances in Solar Technology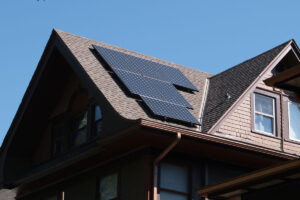 Bell Labs developed the first silicon photovoltaic cell capable of producing usable electricity, with an initial solar panel efficiency rate of 4% in 1954. SunPower now sells the most efficient solar panel on the market with a rate of 22.8%.
Solar panel efficiency is the ratio of energy from sunlight that a panel can transform into electricity. If you want to be a little more technical, here's the formula: Efficiency Percentage = Watts Produced / Solar Energy Absorbed.
Efficient solar panels can produce more power in the same amount of space as older, less efficient panels. This is great for constrained areas like a roof or if you just want to get maximum output from a ground mount array. The more energy production that you can get out of your solar panels, the less panels you will need, which means lower installation costs and less preventative maintenance later on.
New Solar Panels Increase the Value of Your Home
Solar panels make your home more an attractive value to future buyers. According to Zillow, the average home with solar panels sells for approximately 4.1% more.
In a SunPower survey of 133 people who own new homes with SunPower solar systems, 92 percent of respondents said they would recommend a home with solar to a friend. Ninety percent indicated that inclusion of a solar power system was very important or somewhat important in their decision to buy their home. Eighty-five percent responded that they would definitely or likely buy another solar home in the future.
When it comes to adding solar panels to your home, the research seems clear that you can expect that they will increase resale value and will help with make the house more attractive to future buyers.
Is 2023 the Best Time to Go Solar?
With rising electricity rates and a growing desire to live a more environmentally sustainable life, more homeowners each year continue to be drawn towards solar panel systems to offset monthly utility bills. The current 30% federal tax credit makes this kind of investment extremely attractive to both homeowners and businesses, especially as solar technology becomes more and more efficient.
If you need help calculating how much you can save monthly on your electricity bills or how long it would take to break even on your solar investment, our solar consultants would love to help. You can contact them here.