Many electric vehicle owners appreciate how dedicated home EV chargers give them more freedom and convenience than the simple charging cables that usually come with their cars. Installing EV chargers is often straightforward for a professional electrician and safer when you hire a professional electrician, but you may need to upgrade your electrical panel to make it a reality. Here's what you need to know when it comes to installing an EV charger for your home.
Level 1 vs Level 2 Charging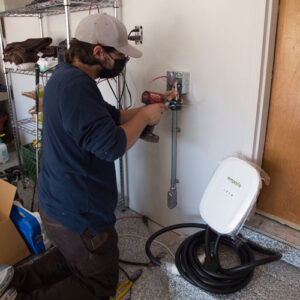 If you plan to purchase an electric vehicle or have already driven one off the lot, you'll probably need to setup a level 2 charging port for it somewhere around your home. A level 2 charger supplies power to your electric car's battery 5 to 7 times faster than a standard level 1 charger. This will allow you to maximize the use of your EV and reduce the number of times you have to stop at public charging stations.
Just like your phone, an electric vehicle is powered by a battery that needs to be recharged periodically, usually through a cable that plugs into a normal wall outlet. You can charge your car through a standard 120-volt outlet, but that will usually take around 24 hours to go from empty to full. Using a domestic wall outlet to charge your car at home is considered Level 1 or a "trickle charge".
Level 2 charging usually uses a 240-volt outlet like the one you plug your electric dryer or refrigerator into. That will allow you to fully charge your electric vehicle in a matter of hours. Sometimes, you can expect up to an 80% charge in 30 minutes or more with this kind of charging.
While most new electric vehicles don't come with a 240-volt charger, all of them should come packaged with a Level 1 charging cable. While you won't need any extra equipment to plug in the standard Level 1 charging cable that comes with you EV, they are far from the most time efficient way to power your vehicle.
Do I Need to Upgrade My Electrical Panel?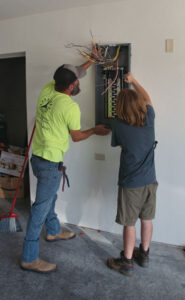 If you are looking to adding an EV charger to your garage, you may need to upgrade your electrical panel. Most newer homes will come standard with a 200-amp electrical panel, designed to handle the electrical demands multiple appliances and high-demand electrical devices. You probably won't need to upgrade your 200-amp panel before installing a home EV charger unless it's already operating at or near capacity.
For homes with older 100-amp panels, you'll probably have to upgrade. This size of electrical panel generally can't handle the demands of an EV charger, along with your other large appliances around the house.

Upgrading your electrical panel is a good investment regardless if you plan to install a new EV charger for a few reasons:

Improved Safety.

The electrical panel acts as the first line of defense against overloads and hazards such as electrical fires, and new models are more effective

More Circuits. This allows you to hook up more appliances in your home that use large ammounts of electricity. It also gives you the opportunity to place large appliances on their own circuits to avoid tripping the breakers during high use times.

Prepare for the Future. Your home will be better suited to handling the addition of new appliances and devices later.

Questions About Installing EV Chargers?
It's important to have experienced and qualified electricians to install your EV charger. The electrical team at Good Energy Solutions provides expert EV charger installations, electrical panel upgrades, and several other residential electrical services. You can reach out to them at (785) 371-1198 or here.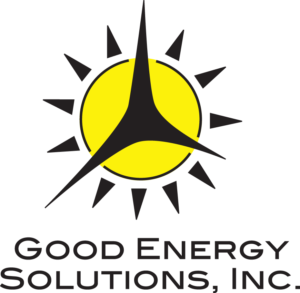 Our mission at Good Energy Solutions is to provide our customers with honest, real solutions to reduce their fossil fuel consumption and lower their long term energy costs. Our combination of hands-on experience, education, and outstanding customer service make our company the clear choice to help you achieve your energy goals.
Founded in 2007 by Kevin and Shana Good, Good Energy Solutions has earned a reputation for our expert reliable service, long workmanship warranties, and quality commercial and residential solar installations.
We are engineers and craftsmen designing for efficiency while keeping aesthetics and longevity in mind. Because of our installation quality and customer service, Good Energy Solutions' solar panel systems feature some of the longest product and service warranties in Kansas and Missouri. Also, we have more NABCEP® Certified Solar Professionals on staff than any other company in Kansas or Missouri.  To achieve this certification, PV installers must demonstrate that they possess extensive solar PV installation experience, have received advanced training, and passed the rigorous NABCEP certification exam.
If you would like to know more about solar power for your home or business, contact us here.