Recently, we've been seeing more and more solar sales people knocking on doors in our area. There are several reasons to be suspicious of anyone who tries to sell you solar while standing on your doorstep. Many of these door knockers work for out of state companies who care more about their bottom line than helping you find a solution to your energy needs. In general, we warn anyone against engaging with a door-to-door salesperson.
Most of the time, these door-to-door salespeople represent companies based in other parts of the United States. Companies will hire local commission-based door knockers to canvas neighborhoods with claims of "zero dollar electricity bills" and no cost solar panel systems. In reality, these salespeople's main goal is not to actually sell you solar panels for your home, but to set up an appointment for you to talk to one of their "closers." The door knockers rarely have enough of a background in solar to thoroughly answer your questions or give advice about adding panels to your roof.
Usually the door knockers' pitch starts with claims of partnering with your local utility company for a special deal or offering a customized report that details how you can save money with solar. These kinds of claims are bogus. Utility companies do not partner with private companies when it comes to residential solar projects. Electric companies like Evergy do not sell solar, nor will they visit a customer's home without proper identification. Evergy does however have resources to help you hire a reputable solar provider.
Here are a few more red flags that should set off alarm bells for you when speaking with a door-to-door solar sales person:
Claims of Free or No-Cost Solar. There is no such thing as free solar or a "no cost solar program." Solar is an investment. While you may find "zero down" financing options available, no one will give you a FREE solar panel system. While solar will save you money, it's never "free". Also, even if your solar panels offset 100% of your electric bill, your electricity company will still charge you a standard set of monthly fees. There will always be an electric bill of some sort, even if it's only a few dollars.
Out of State Solar Companies. While many companies are happy to sell you a solar panel system, where will they be if that system needs servicing? It's important to do business with local companies that stand by their work, install quality solar equipment and will help diagnose your system when your electricity bill doesn't look correct.
Over-sizing Your Solar Panel System. Be cautious of any company that promises to offset your electric bill by 100% or more. Unless you specifically ask for a larger system than you need due to the upcoming arrival of an electric vehicle or plans to expand the size of your family, companies should never attempt to generate more electricity than you use every month. This can increase the price of your system dramatically.
Use of Subcontractors. Who will install your solar panel system? Does the solar company have their own crew of skilled electricians to do the work or will they hire subcontractors? Designing and installing an efficient solar panel system takes training and experience. If the work is done haphazardly or by an inexperienced laborer, you risk roof leaks, electrical mishaps or getting stuck with a system that will stop working as promised. You want to know that the people working on your property have been properly vetted and know what they are doing. That's why Good Energy Solutions never subcontracts the installation work on our solar panel systems.
Pushy Sales Tactics. If a door knocker makes you feel uncomfortable by trying to get you to hastily sign papers or make an appointment with one of their sales people, this could be a warning sign. An honest company wants to EARN your business, not twist your arm into making a quick deal. Do your homework and get several bids by other solar companies. That's the only way you'll feel good in the long run that you've made the right decision. We suggest you check the company's online reviews before you give them your personal information.
Unlike many of our competitors, Good Energy Solutions chooses not to engage our neighbors with high pressure sales tactics, cold calls or dinner time interruptions. We let our marketing and reputation do the legwork for us when it comes to finding new customers. We won't contact someone looking for solar unless they reach out to us first.
If you would like to know how much you could save every month with solar or if your home would be a good fit, you can reach out to us here.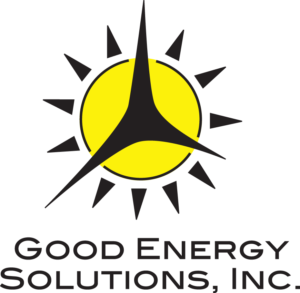 Our mission at Good Energy Solutions is to provide our customers with honest, real solutions to reduce their fossil fuel consumption and lower their long term energy costs. Our combination of hands-on experience, education, and outstanding customer service make our company the clear choice to help you achieve your energy goals.
Founded in 2007 by Kevin and Shana Good, Good Energy Solutions has earned a reputation for our expert reliable service, long workmanship warranties, and quality commercial and residential solar installations.
We are engineers and craftsmen designing for efficiency while keeping aesthetics and longevity in mind. Because of our installation quality and customer service, Good Energy Solutions' solar panel systems feature some of the longest product and service warranties in Kansas and Missouri. Also, we have more NABCEP® Certified Solar Professionals on staff than any other company in Kansas or Missouri.  To achieve this certification, PV installers must demonstrate that they possess extensive solar PV installation experience, have received advanced training, and passed the rigorous NABCEP certification exam.
If you would like to know more about solar power for your home or business, contact us here.