If you are looking to invest in an electric vehicle, the best way to maximize your new car's value is to charge it daily with the power of the sun.  Teaming solar panels with an electric car can drastically reduce your energy costs and lower your carbon footprint.  Here's some important things to consider when deciding whether to integrate solar panels and electric vehicles into your home energy plan.
How much solar power will you need to charge your electric vehicle?
Just like standard automobiles, some electric vehicles are more energy efficient than others.  The energy efficiency of EVs is calculated using a unit of measurement called MPGe. Miles per gallon gasoline equivalent is a measure of the average distance traveled per unit of energy consumed.  Here's a look at the top 10 most energy efficient electric vehicles available in 2021:
| Make and Model | kWh for 40 mi. daily range |
| --- | --- |
| Tesla Model 3 Standard Range Plus | 9.6 |
| Hyundai Ioniq | 10 |
| Tesla Model Y Standard Range | 10.4 |
| Hyundai Kona | 11.2 |
| Chevy Bolt | 11.6 |
| BMW i3 | 12 |
| Kia Niro | 12 |
| Nissan Leaf (40 kWh battery pack) | 12 |
| Tesla Model S Performance (19-inch wheels) | 12.4 |
| Mini Cooper SE Hardtop | 12.4 |
On average, Americans drive their automobiles 13,500 miles a year, which works out to around 40 miles per day.
Now let's figure out how many solar panels it takes to charge a car for a day.  The most popular solar panel that we sell here at Good Energy Solutions is the all black SunPower X-series, which generates 335 watts of power per hour.  If we get between 3 to 7 hours a day of peak energy production from this solar panel, we can expect to generate between 1 kWh and 2.345 kWh of power per solar panel per day.  That means it would take 5 or 6 solar panels to generate enough energy to power the most efficient electric vehicles on a sunny day for their average daily commute. 
How to Get the Power from Your Solar Panels to Your Car
Once you've determined how many solar panels it will take to power your electric vehicle, it's time to figure out how to get that power from the sun to your garage.  Every electric vehicle comes with a standard car charger, however every manufacturer supplies different equipment. 
Some cars come with a low-power charging cable, commonly referred to as Level 1, as it uses a standard 120-volt outlet to power your car.  This is the cheapest way to charge your vehicle, but also the slowest.  Expect to get between 2 to 5 miles of energy per hour from a Level 1 charging cable.  This kind of charging cable may be sufficient for a plug-in hybrid vehicle or a car that doesn't get driven that often.
Other cars come packaged with a Level 2 portable charger.  These utilize a 240-volt electric supply, like you would use for an electric clothes dryer. They can charge your vehicle 3 to 10 times faster than a Level 1 charger.  While these types of chargers are much more time efficient, they do require a dedicated 240-volt circuit in your garage and may require an electrical panel upgrade for your home electrical system.  Luckily, we have an electric services division here at Good Energy Solutions that can install a new 240-volt outlet in your garage if needed.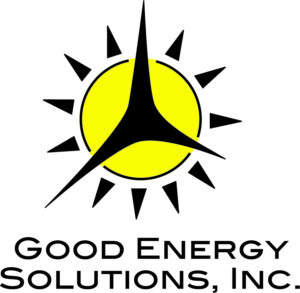 Our mission at Good Energy Solutions is to provide our customers with honest, real solutions to reduce their fossil fuel consumption and lower their long term energy costs. "Energy with Integrity" isn't just a company slogan, it's how we do business. 
Founded in 2007 by Kevin and Shana Good, Good Energy Solutions has earned a reputation for our expert reliable service, long workmanship warranties, and quality commercial and residential solar installations. 
If you would like to know more about solar power for your home or business, contact us here.