Our Warranty
Best in the Solar Industry
As a SunPower Elite Dealer, Good Energy Solutions offers the best solar power warranty in the industry. SunPower's exclusive 25 Year Combined Power and Product Warranty offers protection no other manufacturer on the market dares to match.
Manufacturers Warranty
SunPower will replace any defective panel, racking, or micro-inverter free of charge for 25 years. You pay nothing. When a company is that willing to warranty their products you know they have good reason for their confidence. SunPower certainly does—only one in 20,000 of their panels is ever returned for replacement.
When you produce the top solar power system on the market, it's easy to also provide the top warranty on the market for that solar energy system. It's a combination that can't be beat for reliable quality!
The Competition
How does SunPower's warranty stack up against the competition? Conventional solar panels typically only offer 10-year, parts-only warranties. That means that if there's a malfunction, you pay for panel removal, you pay for shipping, and you pay for reinstallation. Considering the wear and tear that a solar panel system absorbs over the course of its life, that's simply not good enough.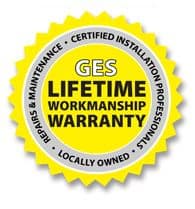 Lifetime Workmanship Warranty
Here at Good Energy Solutions, we trust SunPower. They use innovative technology to produce industry-leading solar panels that continue to win awards for efficient performance, durability, and sustainability. Then they stand behind their work with the best solar power warranty around.
We protect your investment even further by adding our own regional-best Good Energy Solutions' Lifetime Workmanship Warranty. We want you to feel as confident in our work as we do, so—here's our word. In the unlikely event your SunPower solar panel system fails because of a workmanship error, we will come back and fix it for free. Guaranteed.
Combined, these two warranties provide you with extra peace of mind and add value to your solar energy system so that you can enjoy the savings of solar worry-free.
"I selected Good Energy Solutions to install my solar installation because the product they sold had the best warranty of all those I considered. I have been totally satisfied with the company, with my 10kW ground-mounted array being completed earlier than promised and on-budget. All company personnel I met, from sales staff to engineering to installers were courteous, conscientious, and professional. They showed up when promised and all seemed to be highly-qualified in their respective areas. We started our solar project after Thanksgiving and were concerned that it wouldn't be completed by the end of the year but Good Energy Solutions came through with time to spare, and our system went live on December 8. I highly recommend this company for any solar installation." — Bud Park, 2018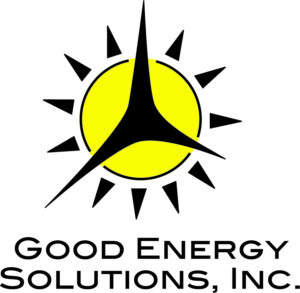 Our mission at Good Energy Solutions is to provide our customers with honest, real solutions to reduce their fossil fuel consumption and lower their long term energy costs. "Energy with Integrity" isn't just a company slogan, it's how we do business. 
Founded in 2007 by Kevin and Shana Good, Good Energy Solutions has earned a reputation for our expert reliable service, long workmanship warranties, and quality commercial and residential solar installations. 
If you would like to know more about solar power for your home or business, contact us here.