With the federal government offering a 30% tax credit for residential and commercial solar projects, the demand for clean renewable energy has dramatically risen in Kansas and Missouri. Good Energy Solutions was recently recognized for its increased effort to expand the adoption of solar in the United States by taking a top spot on the 2023 Top Solar Contractors List, released today by Solar Power World.
The Top Solar Contractors List is developed each year by industry magazine Solar Power World to honor the work of solar installers in the United States. Solar firms in the utility, commercial and residential markets are ranked by the number of kilowatts they installed in the previous year. Companies are grouped and listed by specific services, markets and states. Good Energy Solutions is ranked at No. 356 in the nation.
"Renewable energy accounts for a quarter of U.S. electrical generation, now far exceeding electricity produced by burning coal," said Kelsey Misbrener, managing editor of Solar Power World. "Solar power is an important member of that renewable makeup, and companies on the Top Solar Contractors List are all contributing to our country's shift to cleaner electricity. We are honored to recognize them each year for their necessary work putting green kilowatts on roofs, over parking lots, in desert locations and across water reservoirs. Every project is making a difference."
The United States reported its strongest first-quarter ever in Q1 2023 for solar panels installed, and industry analysts expect the solar market to triple in size over the next five years. The industry will stay busy, and companies on the Top Solar Contractors List will be the ones with their boots on the ground — or roof.
"We are delighted to be included in the Top Solar Contractors List this year," said Malcolm Proudfit, CEO of Good Energy Solutions. "We have encountered great challenges as we have tried to meet the demand we are seeing in this part of the country. It is exciting to help more and more people to reduce their long-term energy costs, and reduce their carbon footprint, all at the same time. The solar-coaster continues to challenge us as a firm, but our team has shown great dedication to their craft as we have worked to meet these challenges, and I couldn't be more proud.
Good Energy Solutions employs 48 workers who installed more than 963 kW of solar power in 2022. Since its founding in 2007, the company has installed nearly 25 MW of solar. The company also offers residential and commercial electrical services, battery backup solutions, and a recently launched solar service and repair department.
If you're interested in learning more about solar, our consultants can give you a free proposal that shows how many panels you'll need, how they would be situated on your property, how much they can save you every month and your expected return on investment. You can reach out to us here.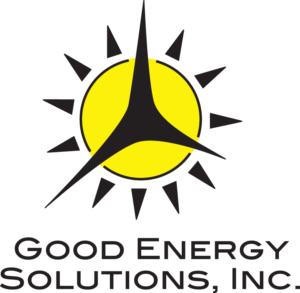 Our mission at Good Energy Solutions is to provide our customers with honest, real solutions to reduce their fossil fuel consumption and lower their long term energy costs. Our combination of hands-on experience, education, and outstanding customer service make our company the clear choice to help you achieve your energy goals.
Founded in 2007 by Kevin and Shana Good, Good Energy Solutions has earned a reputation for our expert reliable service, long workmanship warranties, and quality commercial and residential solar installations.
We are engineers and craftsmen designing for efficiency while keeping aesthetics and longevity in mind. Because of our installation quality and customer service, Good Energy Solutions' solar panel systems feature some of the longest product and service warranties in Kansas and Missouri. Also, we have more NABCEP® Certified Solar Professionals on staff than any other company in Kansas or Missouri.  To achieve this certification, PV installers must demonstrate that they possess extensive solar PV installation experience, have received advanced training, and passed the rigorous NABCEP certification exam.
If you would like to know more about solar power for your home or business, contact us here.