The U.S. solar industry is on the upswing, thanks to a pro-renewables presidential administration and increased concern over climate change. Good Energy Solutions has had a front-row seat to this action, with business increasing over the last year. Solar Power World has recognized the company's installation success by ranking Good Energy Solutions at No. 369 on the 2021 Top Solar Contractors list.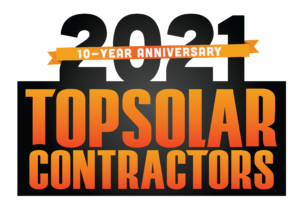 The Top Solar Contractors list is developed each year by Solar Power World to honor the work of solar installers in the United States. Solar firms in the utility, commercial and residential markets are ranked by number of kilowatts installed in the previous year. Companies are grouped and listed by specific service, markets and states.
"Not even COVID-19 closures and slowdowns could prevent the solar industry from installing fantastic numbers last year," said Kelly Pickerel, editor in chief of Solar Power World. "The Solar Power World team is so glad to recognize over 400 companies on the 2021 Top Solar Contractors list that not only survived a pandemic but thrived in spite of it."
The U.S. solar industry grew 43% in 2020, installing more solar panels on homes, businesses and across the country than any other year on record. The residential market saw an 11% increase, which is remarkable considering the difficulties of maneuvering home solar projects through pandemic precautions. 
The federal government passed a two-year extension on the solar investment tax credit (ITC) at the end of 2020, which will further accelerate solar adoption across all market segments. After installing 19.2 GW in 2020, research firm Wood Mackenzie expects the U.S. solar market to quadruple by 2030. 
Good Energy Solutions currently employs 42 workers who installed 623.41kilowatts of solar power in 2020. Since its founding in 2007, the company has installed 12,466 kilowatts of solar. The company expects to see more growth in the commercial solar and energy storage sectors in the coming year.
"We are honored to once again be featured on the Top Solar Contractors list," said Malcolm Proudfit, CEO of Good Energy Solutions.  "Each member of our team strives for the highest level of integrity and quality in their work. Our community has shown a continued, increasing interest in solar as a result of our efforts, and we look forward to providing many more customers with top-tier solutions to reduce their fossil fuel consumption."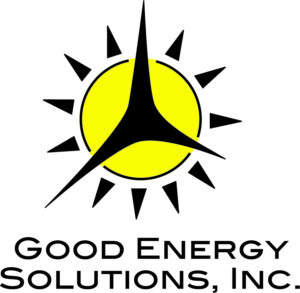 Our mission at Good Energy Solutions is to provide our customers with honest, real solutions to reduce their fossil fuel consumption and lower their long term energy costs. "Energy with Integrity" isn't just a company slogan, it's how we do business. 
Founded in 2007 by Kevin and Shana Good, Good Energy Solutions has earned a reputation for our expert reliable service, long workmanship warranties, and quality commercial and residential solar installations. 
If you would like to know more about solar power for your home or business, contact us here.