Good Energy Solutions is Proud to be the only  SunPower Elite Dealer in Kansas and Missouri. 
---
Residential Home Solar With SunPower and Good Energy Solutions
More power means more savings. SunPower's unique technology is built-to-last when conventional solar panels lose power with age. No other home solar technology converts more sunlight than SunPower, giving customers an incredible 70 percent more energy in the same space over 25 years, resulting in more savings over time. Plus the "25-Year Complete Confidence Warranty" leads the solar industry by covering YOUR ENTIRE SYSTEM for 25 years, not just the solar panels. One Company, One Warranty. How does SunPower do it? By making highly reliable panels, rated #1 for durability.
The next big step in Solar
The SunPower® A-Series panel is capable of producing 400 or 415 watts. Remember, a solar panel is only as good as the cells inside. The SunPower® Maxeon® Gen 5 solar cell is 65% larger than prior generations, converting more sunlight into electricity. The new panels are a little bit skinnier and a little taller – about 40 inches by 72 inches. Overall, it's a larger panel than SunPower's panels that produce 370 watts. The benefit is that they generate the same amount of power with fewer panels on the roof. For instance, instead of 20 panels, a homeowner might only need 17. This larger size panel is great for ground-mount systems.
Additionally, SunPower A-Series just blew past the competition with a 9000 pa on both Wind and Snow test loads. Which is roughly equivalent to >240 mph wind and > 180 lb/sq ft of snow. To put that into perspective, the strongest 1-minute sustained hurricane winds on record come from 2015's Hurricane Patricia, which clocked in at 215 mph. And, 180 lb/sq ft snow rating is roughly equivalent to 12 feet of snow buildup. Go solar in confidence with the A-Series; designed and engineered to withstand hot, cold, wind, snow, the stratosphere and the polar ice cap.
Less solar panels makes for a more efficient installation process and uses fewer materials. With these larger A series panels, there's less metal per watt, fewer rails per watt and fewer roof attachments per watt. This typically results in a faster installation process, which means the installers will spend less time on the roof..
Integrated Design, Unmatched Performance.
The SunPower Equinox™ platform is a testament to SunPower's design philosophy when technology is designed to work together, it works better. No other system is designed and engineered by one company. From solar cell to software, SunPower Equinox systems generate more power, are more reliable and look better than conventional home solar power systems.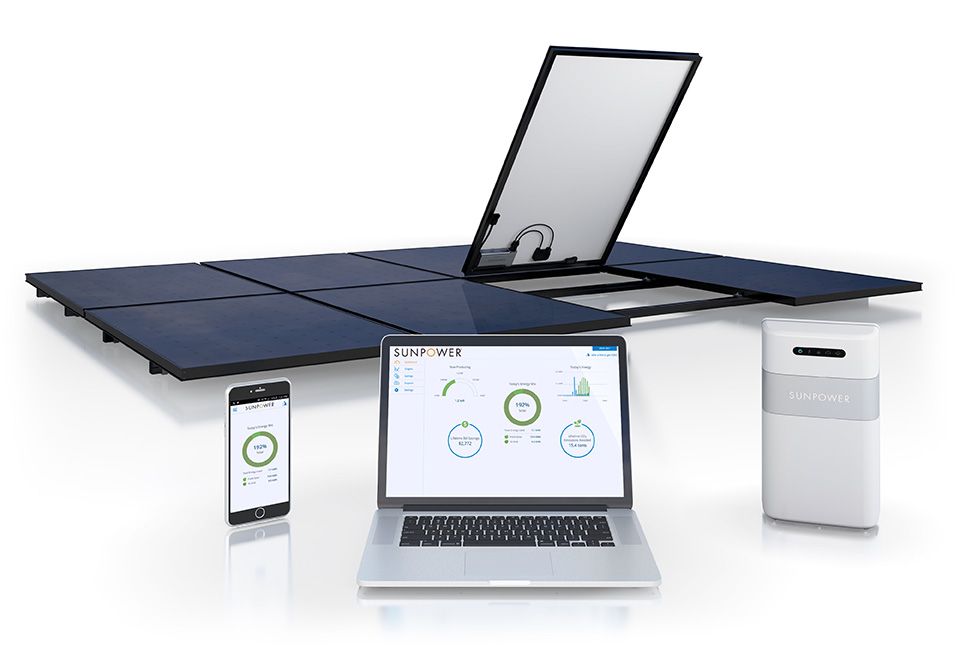 Why SunPower? Performance and Warranty
The world-record setting efficiency of SunPower panels is unmatched in the commercial market today. They produce 60% more energy from the same space over the first 25 years than conventional panels, with less degradation over time. Because SunPower's panels produce more energy, customers need fewer panels and less roof space to generate the same amount of energy. SunPower's panels are uniquely designed to perform better in low light, "waking up" earlier in the morning and "staying awake" later in the day, generating energy even when it's cloudy or foggy outside.
With SunPower's patented software, homeowners can also measure the amount of energy their solar system is producing and the total energy consumption of their home, another way SunPower helps customers manage their energy and maximize their savings. Because of real-time monitoring you'll have the peace of mind to know that your system is operating as promised.
In addition, all of SunPower's panels are backed by an industry-leading 25 year combined power and product warranty, the "25 Year Complete Confidence Warranty". So you can feel confident that you invested wisely.
Why SunPower? Durability and Maxeon Solar Cell Technology
Rated #1 in durability in third-party testing, no other home solar technology stands up to the elements better than SunPower even in the most the most challenging conditions: hail, snow, extreme temperatures and hurricane-force winds.
More About Maxeon Solar Cell Technology
The maxeon cells seamless surface captures more sunlight thanks to the innovative back-contact design. The patented cell structure also eliminates the causes for cell breaks and corrosion from temperature swings and damp heat, which account for 86% of the reasons conventional cells fail. You enjoy reliability and savings over the lifetime of your system.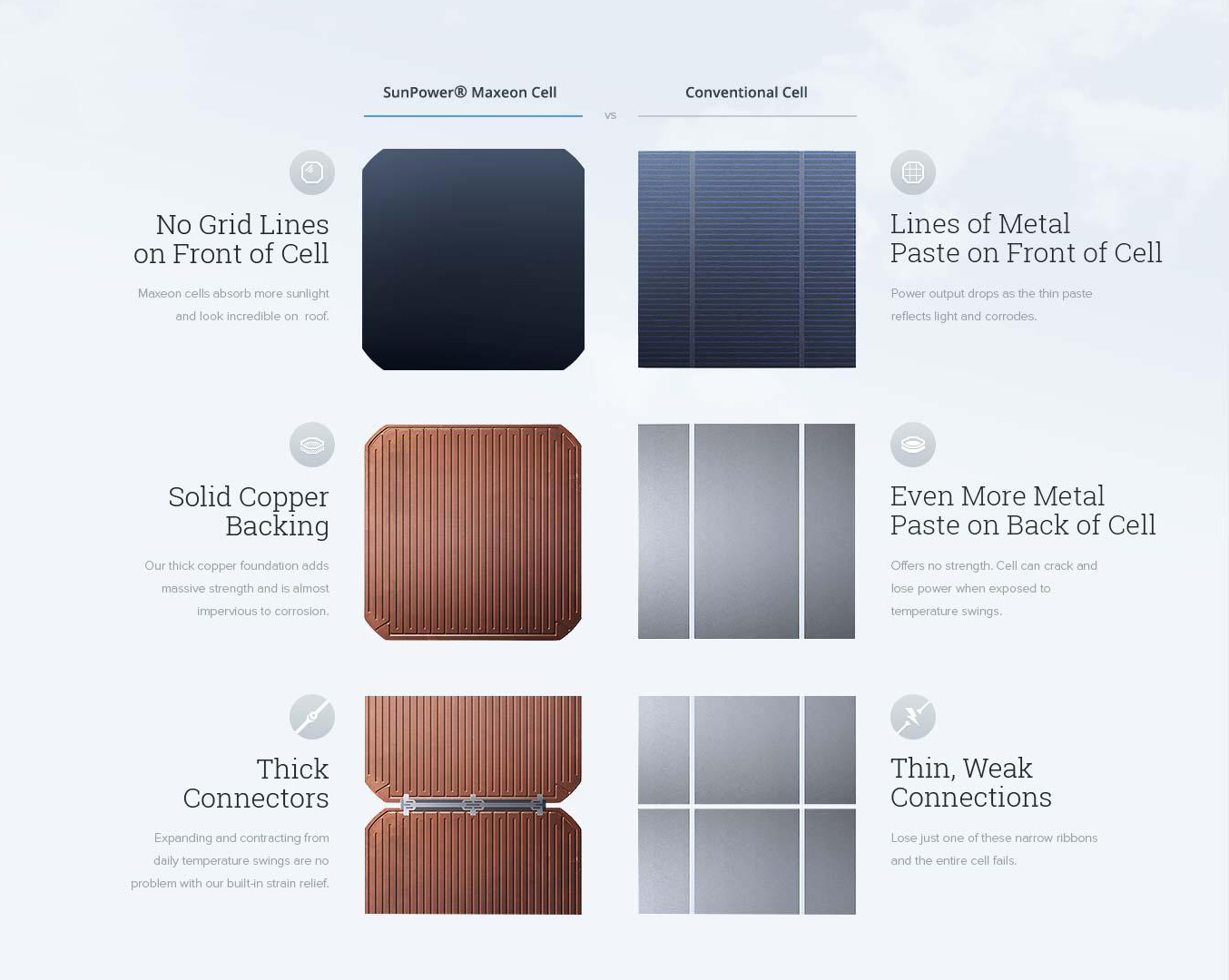 While SunPower is not the only manufacturer who puts all the wires on the back of the cell, they have an additional efficiency premium because they build their cells on a solid copper foundation. This helps the cell operate more efficiently. SunPower has other improvements that help as well. Anti-reflective glass helps panels absorb more light and the use of ultra-pure silicon that goes into the cells. All these things together make SunPower cells unique and help their panels harvest more energy.
About SunPower
As one of the world's most innovative and sustainable energy companies, SunPower provides a diverse group of customers with complete solar solutions and services. Residential customers, businesses, governments, schools and utilities around the globe rely on SunPower's more than 30 years of proven experience. For more information about how SunPower is changing the way our world is powered, visit www.sunpower.com.
Customers can have peace of mind knowing their solar systems are as sustainable as the energy they produce. SunPower leads the way in sustainability, as the first and only solar company to achieve the prestigious Cradle to Cradle Certified™ Silver designation for environmental responsibility in the design and manufacturing of its products.
SunPower's Proven Experience
Designed here in the U.S., SunPower's systems have been installed on over 500,000 homes around the world. SunPower has powered solar aircrafts for NASA, built the world's largest solar power plant and teamed up with the San Francisco 49ers on their environmentally-friendly Levi's Stadium.
Proven experience and differentiation of product means that SunPower is going to be here for years to come and able to honor their 25 year warranties. SunPower is secure, as it is the 4th largest solar company in the world and able to invest millions into warranty reserves, and technology development. SunPower is celebrating their 35th anniversary in 2020. That's 35 years of specialization of solar.
Good Energy Solutions' Proven Experience
Good Energy Solutions is proud to be the only SunPower Elite Dealer in Kansas and Missouri. SunPower hand picks their dealers that share their values of quality and integrity. We were selected by SunPower to be an Elite Dealer because of our commitment to quality products, service and installation. We are proud to be installers for SunPower, the makers of the most efficient solar equipment in the world. To learn more about reducing your energy use through energy efficiencies and creating your own clean energy with a SunPower Solar energy system, contact Good Energy Solutions.