We love SunPower's best-in-class warranty, quality construction and terrific monitoring app, but our favorite thing about the company is their solar panel efficiency. Good Energy Solutions is the only SunPower Elite Dealer in Kansas and Missouri.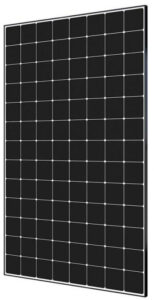 Several respected publications have rated SunPower as producing the most efficient solar panel on the market, including Solar Edition, EcoWatch, Solar Reviews, Energy Sage and Clean Energy Reviews. These solar reviewers based their findings on build quality, reliability and most importantly efficiency.
Solar efficiency describes a panel's ability to convert sunlight into electricity. The higher the efficiency, the more electricity a solar panel generates. Designed in a California facility with SunPower, Maxeon solar cell technology makes more energy from sunshine than its competitors.*
Conventional solar cells lose power over time because of corrosion and breakage. The unique design of SunPower solar cells eliminates 85% of the reasons conventional cells normally fail. Commonly, this is referred to as degradation. Most solar panels lose .5% of their power production every year, meaning that after 20 years, they produce 10% less power. However, premium manufacturers like SunPower offer panels with degradation rates as low as 0.25% per year, which means their panels will last much longer than most other manufacturers.
SunPower Solar Panel Warranty
Having a quality product that leads the field in efficiency is one thing, but having a gold-standard warranty to go along with it only makes it better. SunPower expects its solar panels to have a useful life of more than
40 years
, and they back up their products with an industry-leading
25 year warranty
. If you also purchase a SunVault battery for your solar installation, it shares the same Complete Confidence Warranty as your SunPower solar panel system, which makes getting the entire system serviced in case of a problem much simpler.
Solar panels are a long-term investment. If you want the reassurance that your solar installation will stay productive for decades to come and if a problem arises your warranty will help protect you, we believe that SunPower is your best choice.
If you would like more information about solar panel efficiency or the solar services that we offer, you can reach out to us here. Our solar consultants will look at your energy needs and location to help you determine the best ways to maximize your investment into solar energy.
*SunPower 360W compared to a Conventional Panel on same sized arrays (260W, 16% efficient, approx. 1.6 m2), 4% more energy per watt (based on 3pty module characterization and PVSim), 0.75%/yr slower degradation. (Campeau, Z. et al. "SunPower Module Degradation Rate," SunPower white paper, 2013). See sunpower.com/facts for details.