Commercial Energy Management and Battery Storage
Tesla PowerWall Certified Installer
Get a Free Quote
Commercial Energy Management and Battery Storage Means Savings on Your Energy Bill
Reduction of energy used during peak times can really make a difference on your company's bottom line. Good Energy Solutions can use a battery system that stores energy, and then uses that energy at the optimal part of the day. Ultimately, the battery reduces the energy drawn from the utility during the peak time (most expensive time).
Solar and storage go hand in hand. In fact, adding a solar energy system to your battery system may make your battery system eligible for the Investment Tax Credit (26% Federal Tax Credit through 2022) We can design and install a Solar energy system that creates the energy that is stored to be used during peak times.

Everyone Can Benefit with Batteries for Energy Management
Peak Shaving. Discharge at times of peak demand to reduce expensive demand charges.
Emergency Backup. Powers a facility when the grid goes down.
Demand Response. Discharge or charge in response to signals from a demand response administrator.
Load Shifting. Shift energy consumption from one point in time to another.
Ancillary Services. Provide service to the grid in response to signals sent by the grid operator.
Solar Self-Consumption Charge from solar when possible to increase renewable consumption.
Our staff of Engineers, NABCEP Certified PV Installers, Certified Electricians, and Contractors can help you determine the best way to manage your energy at your commercial building. Let's get started. First, collect the energy bills from the last 12 months and then give us a call or contact us. We would love to help you determine what would be the best solution for your energy needs.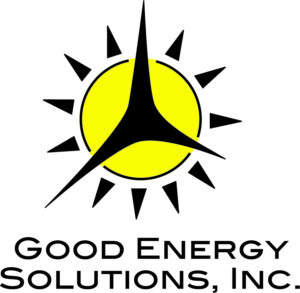 Our mission at Good Energy Solutions is to provide our customers with honest, real solutions to reduce their fossil fuel consumption and lower their long term energy costs. "Energy with Integrity" isn't just a company slogan, it's how we do business. 
Founded in 2007 by Kevin and Shana Good, Good Energy Solutions has earned a reputation for our expert reliable service, long workmanship warranties, and quality commercial and residential solar installations. 
If you would like to know more about solar power for your home or business, contact us here.
---
Battery Technology is improving resulting in affordable energy storage for businesses.
Learn more about the evolution of battery technology and how Batteries are helping commercial businesses save money by storing energy that can lower or eliminate electrical utility high peak demand charges. Learn More…
---